confession:
I've been putting off posting for an ridiculously long time. I don't even really want to be posting
right now
(can you blame a girl? I have leftover key lime pie and a nice long read calling my name).
It's not you, it's me.
promise.
Mostly, I know I have a lot of posting to catch-up on and it's just been adding up as the weeks go by, so I've been avoiding the whole thing like an overwhelming homework assignment. Throw onto that the fact I have minimal pictures of said events and it makes the whole thing nausea-inducing. So...here's the deal...I'm just go throw some pictures up on the blog, which may or may-not be in chronological order, and we'll see what we end up with. It probably won't be all that I need to post, but at the very least, it'll break the blogging ice that's been building up over the last couple months of non-posting or pseudo-mini-posting.
On February 9th, Sarah, Natalie and I threw a shower for one of my besties, Jennae. I went waaay out of my comfort zone and offered up my house for the party. I figured having a deadline would ensure we had the dining/kitchen completely finished for it, which, luckily we did (but just by the skin of our teeth!). Party-throwing is not my forte, by any means (I'm too scattered to plan thoroughly), but it was so much fun putting our heads together and seeing what we could come up with. Kudos to both Sarah and Natalie, I was in the throws of some serious morning sickness and they definitely picked up my slack. Anyway, the girls and I were so busy hosting that we didn't get around to taking many pictures, but I figured I'd post what I have :)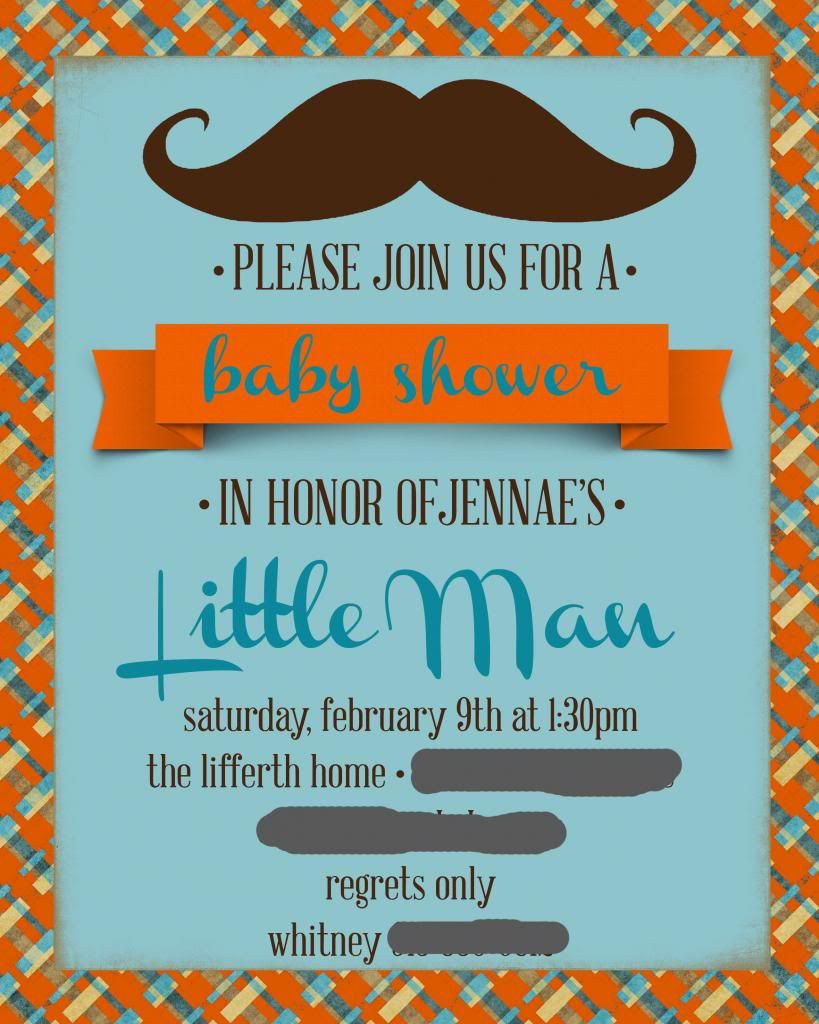 The shower invite I designed. I gotta say, it's one of my personal favorites out of my stash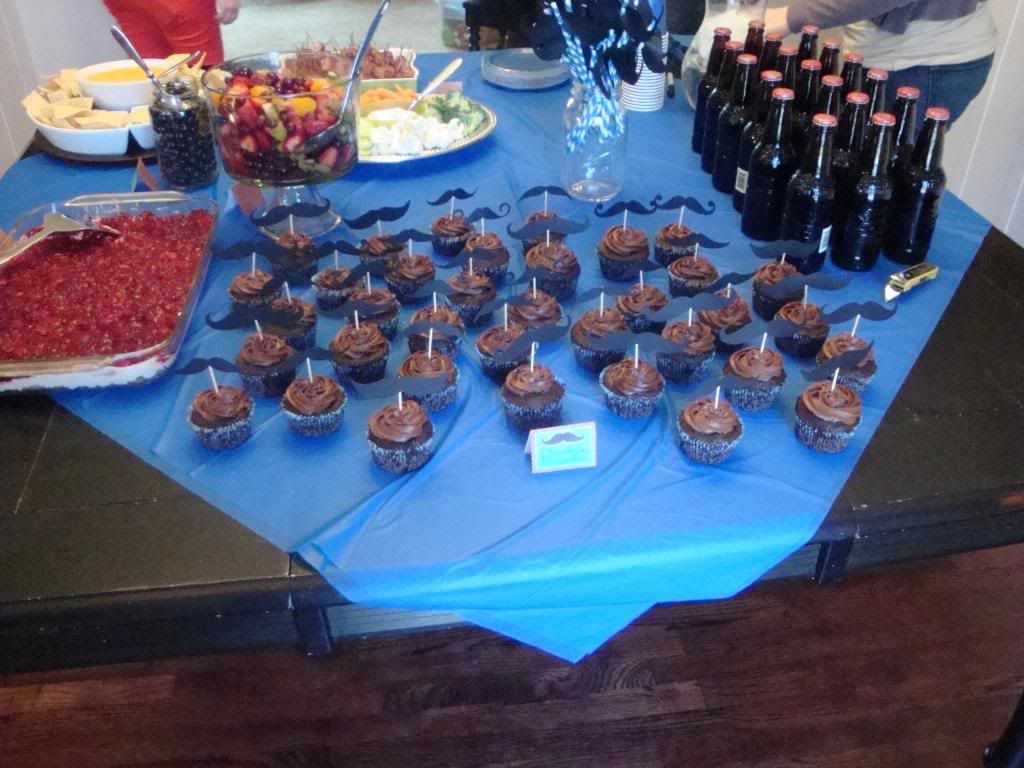 the super-yummy spread!
(note the mustache-bedecked stripey straws at the top. They were adorable!)
The fabulous cupcakes, which were almost too cute to eat!
You can't see it well, but Sarah made this smashing little man banner.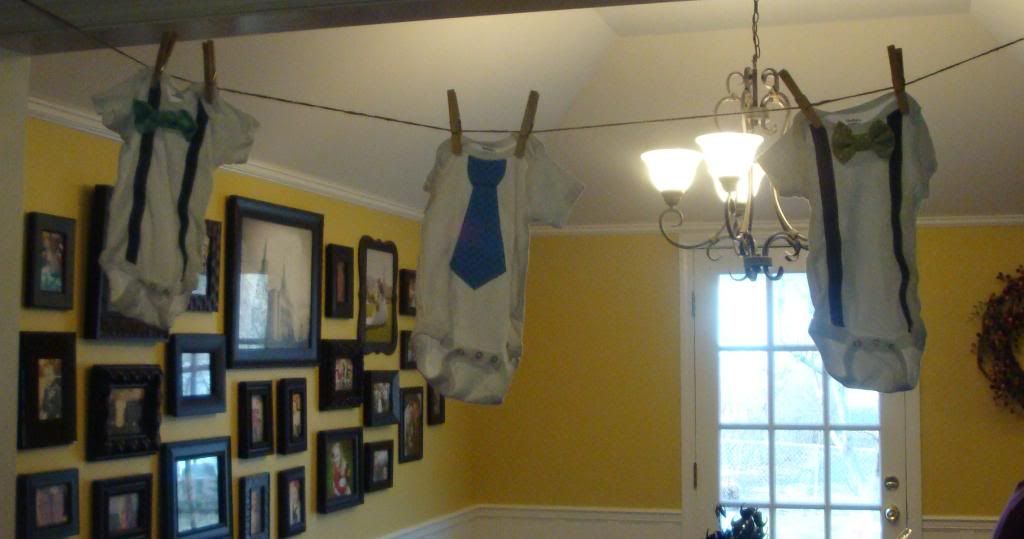 Natalie's adorable little man onesie banner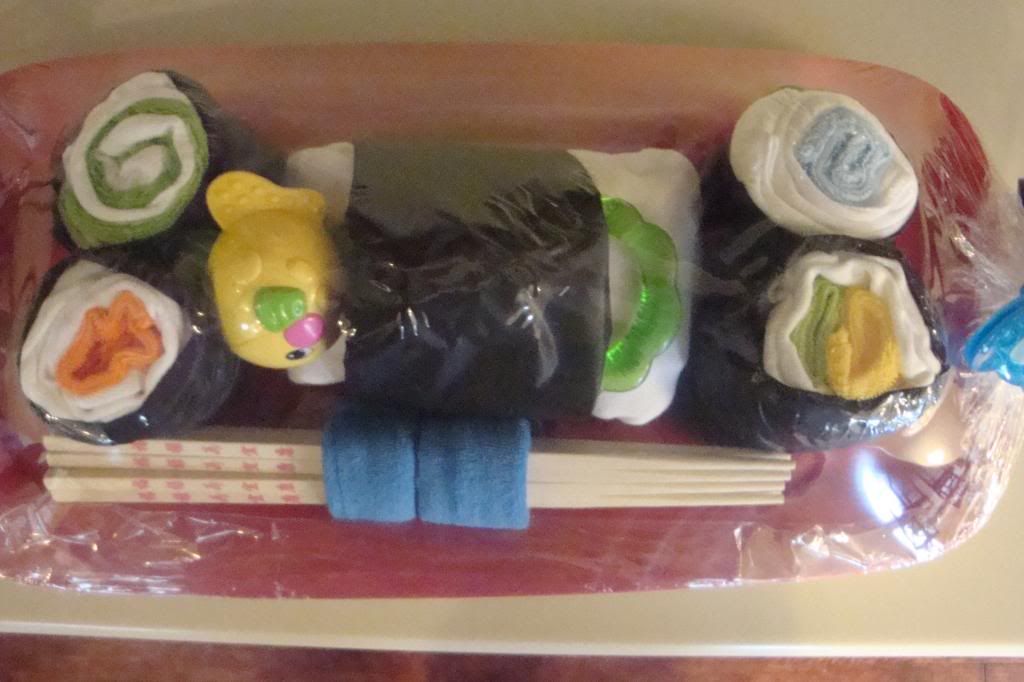 I couldn't resist snapping a shot of Meggin's to-die-for sushi gift
(onesies, washcloths, and miscellaneous baby items all wrapped up in heat-shrunken cellophane)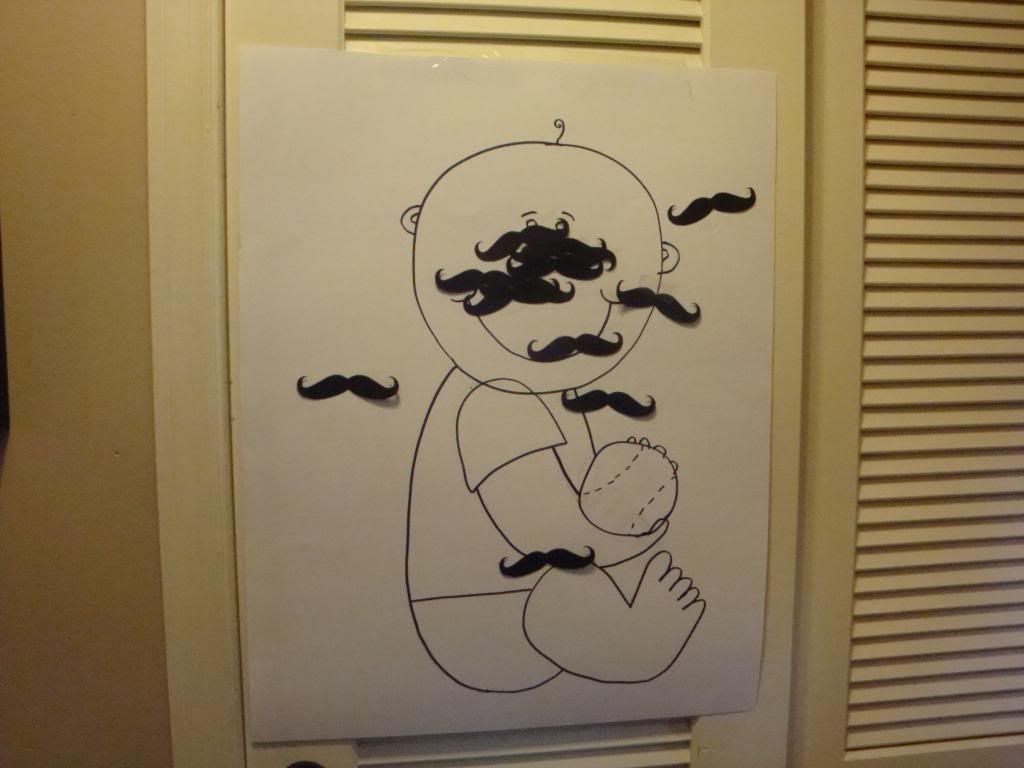 Sarah's Pin The Mustache on The Baby game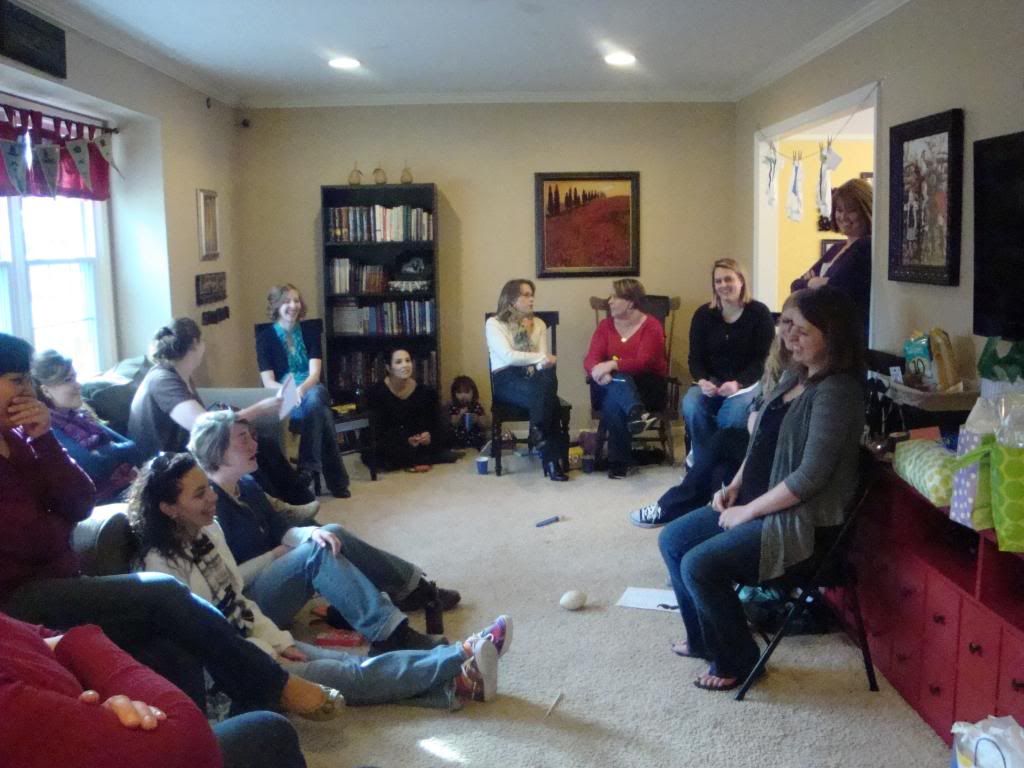 A quick shot of a some of the lovely ladies who attended. The vastly pregnant one on the right is Jennae ;)
A quick shout-out to Miss Jennae who just had her baby, Talon Trevor yesterday evening! Congrats, Lady!
...aaaand speaking of finishing up the remodeling....here's the long-promised official before/after shots of our dining room.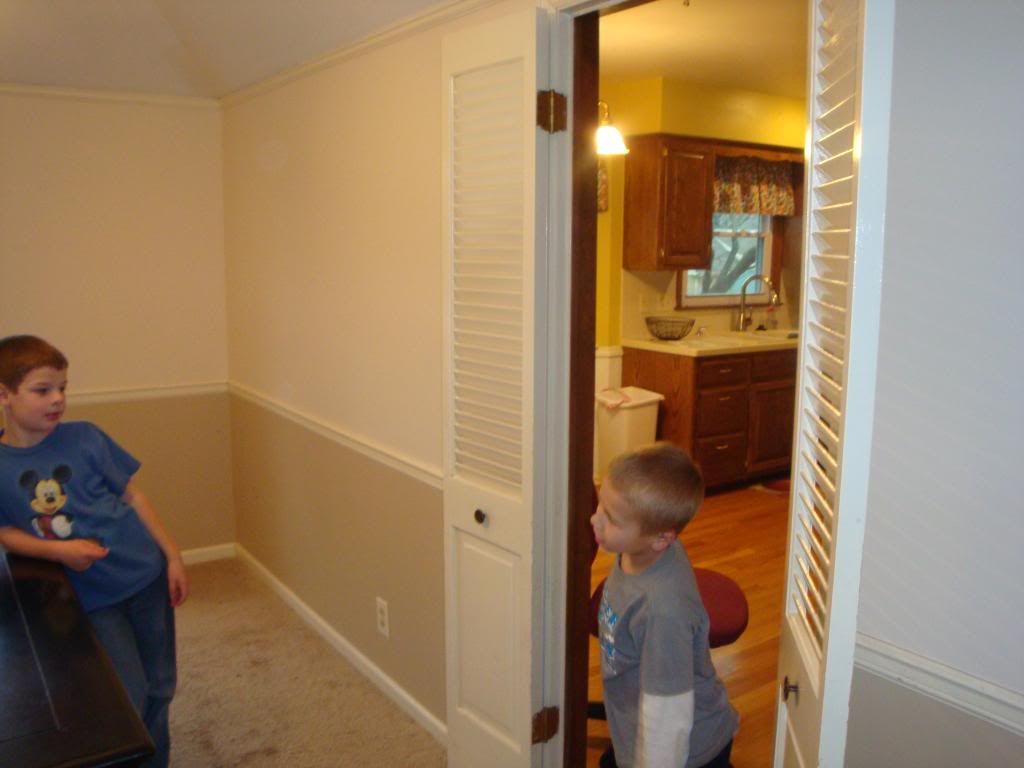 the dining room wall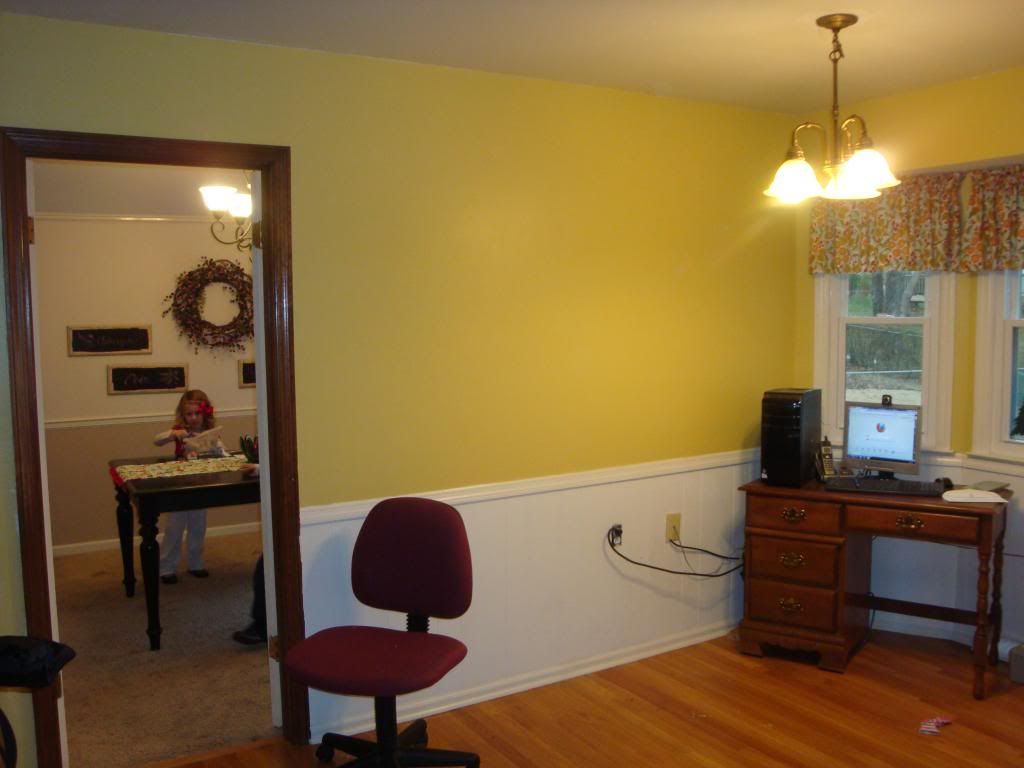 From the kitchen looking towards the dining room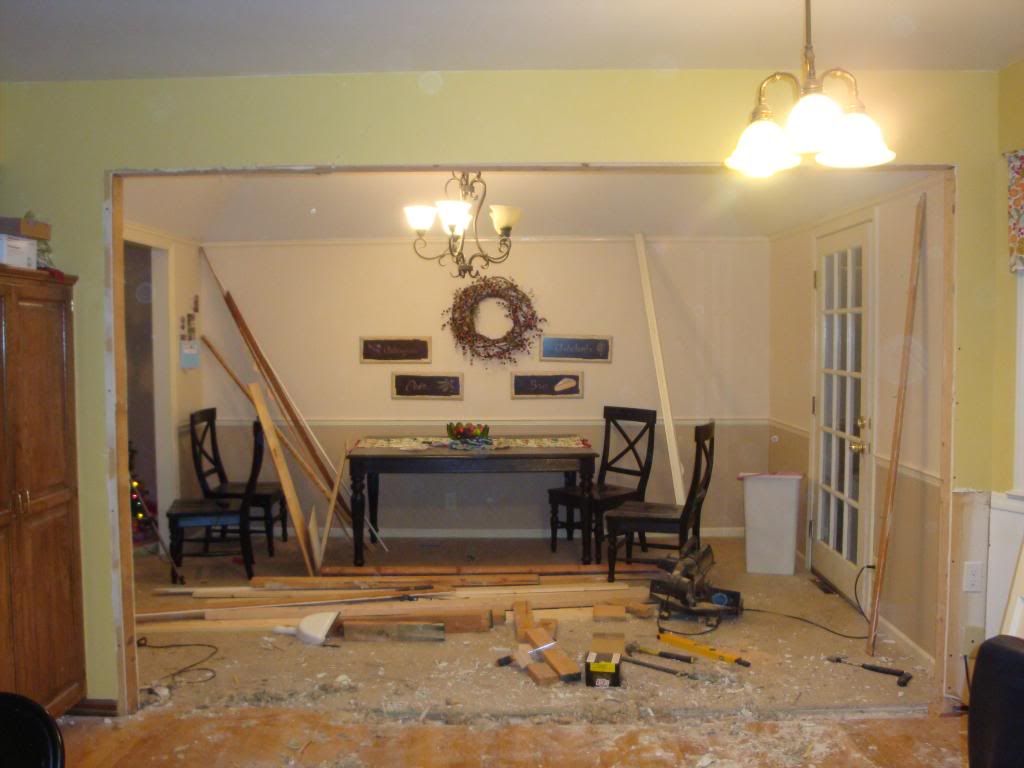 The wall comes out!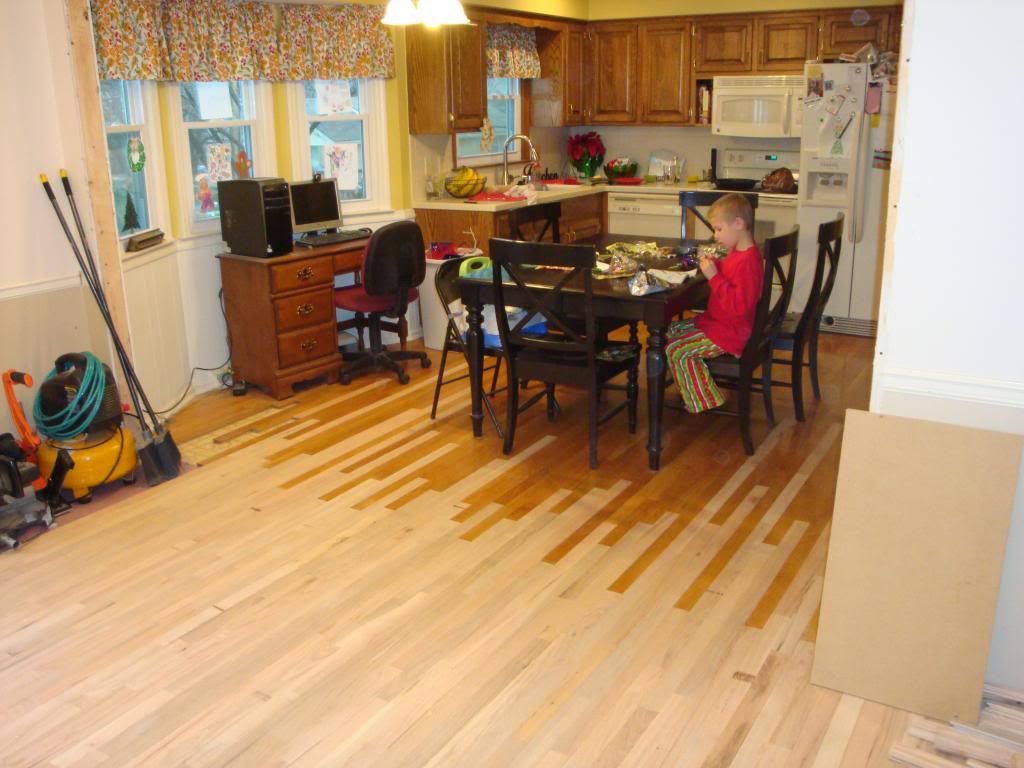 We finish laying the floor on Christmas Day
The new floor and old floor, post-sanding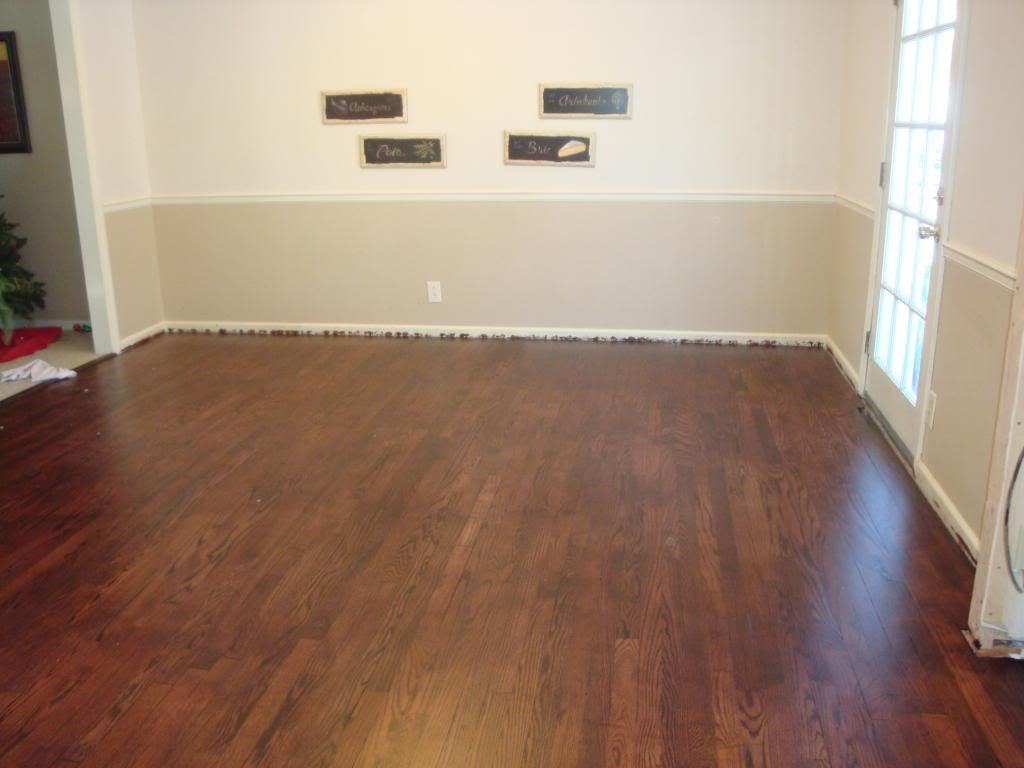 All stained up!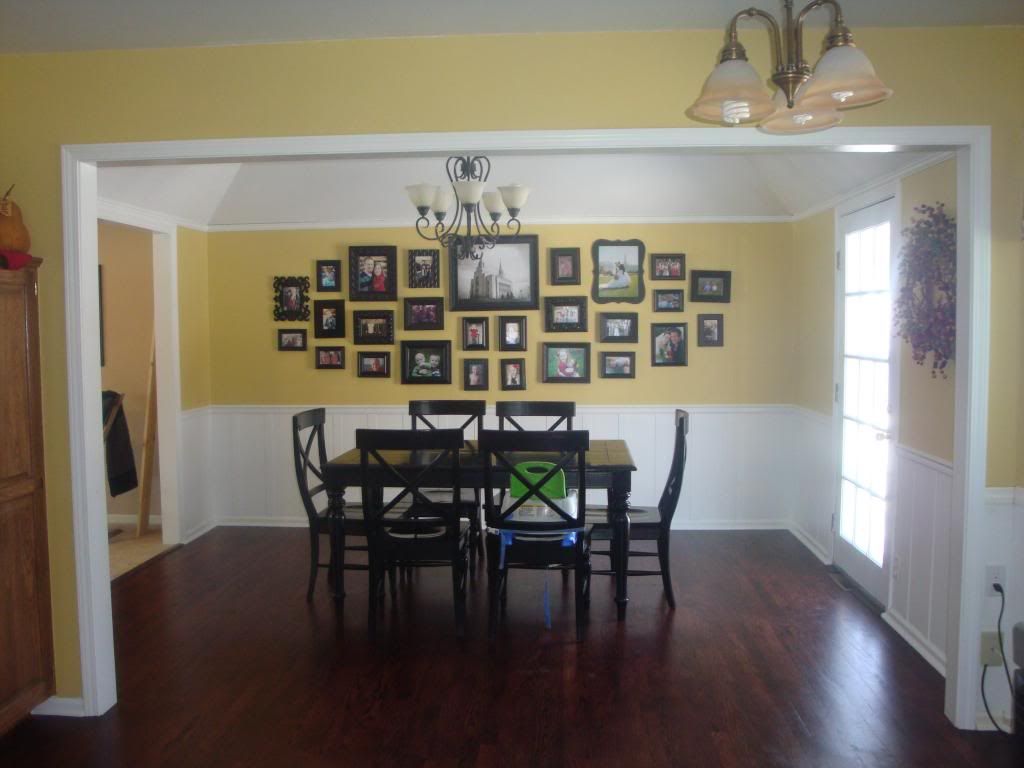 The Finished Product
Overall, we finished up the wall, re-routed the wiring (since our previous light switch was on the wall we took down), did the flooring, and painted the upper half of the wall the same yellow as we have in the kitchen. We also wanted to add some more white to keep the room light and to tie it in with pre-existing white kitchen panelling and the (hopefully soon-to-be painted not-yet-white) cabinets in the kitchen. We wanted some texture on the bottom half of the wall, so we added a really shallow strip of masonite for a board-and-batten look. We just really love how the whole thing turned out!
Here's a close-up of the board-and-batten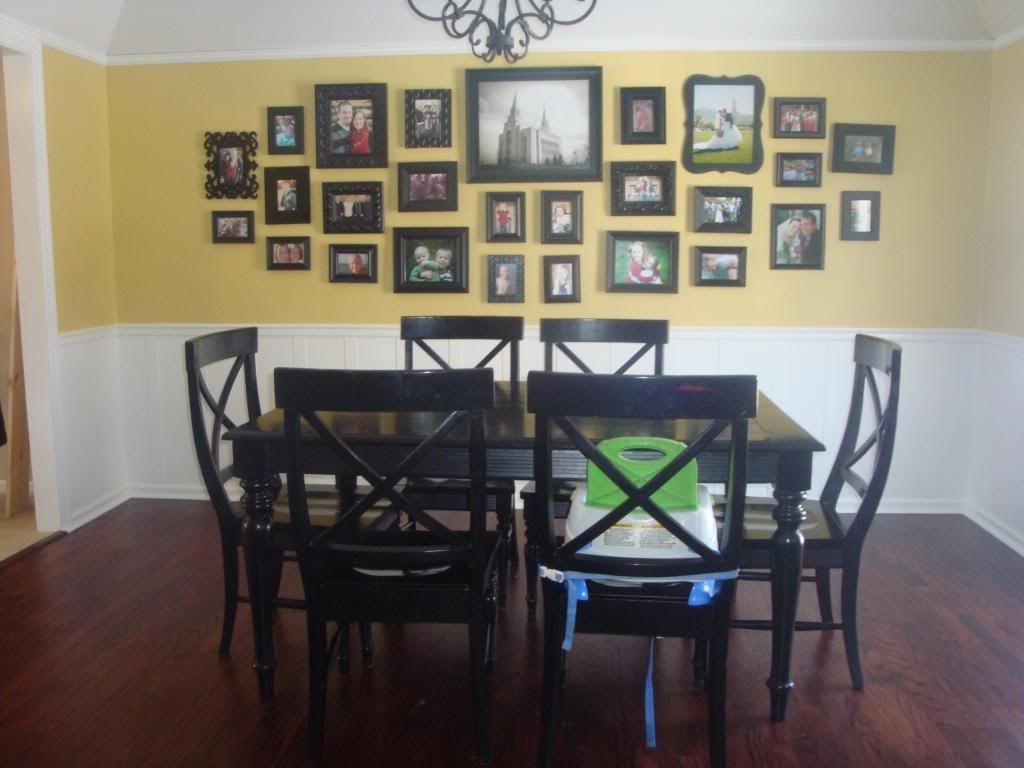 A slightly closer look at the dining room
A close-up of the gallery wall. My mom came up to celebrate my birthday and this was my much-longed for birthday present. I'm always straightening pictures, but it's so worth it. I makes me smile every time I look at it.
Just for good measure, I figured I'd throw a semi-blurry 14-week belly picture into the mix for inquiring minds :)
I couldn't resist taking a couple of St. Patrick's Day pictures. Originally I had an adorable 4-kid picture planned in my head (especially since the boys were both wearing a lot of green), but Oak fell asleep on the drive home and Ezra promptly refused, ran upstairs, got in pjs, and washed the gel out of his hair. oh well. c'est la vie. So, you get just the girls instead.


Thank heaven for little girls...even if one of them acted absolutely ghastly at church today.

hint: it's the one you're thinking of.
I have to do a mini-brag here, so indulge me for a moment. So, Georgia was throwing a massive whine-fest this morning because she owns literally no green. I had suggested alternatives (white dress with green bows and jewelry, etc), but she wasn't buying it. Always one to compare, she insisted she had to have
at least
as much as Scarlett did (oh the horror of being one-upped by a little sister!). As I'm frantically trying to come up with alternate clothing options I couldn't help but wish we had had this conversation the night before since I have some scrap green fabric I could've worked some kind of skirt out of, if push came to shove. Then...[cue the dramatic music]...I noticed her light green curtains. I whisked the valence off the rod, threaded some elastic through the casing at the top, safety pinned it closed and down the back, and...
voila! a skirt was born!
I'd like to say things were all giggles and sunshine after that, but honestly, Georgia moans and groans every week on the way to church regardless. At least I got her out the door with something green to cover her bum up with and she didn't notice I dressed her in her sister's shirt, right?
We moms need to take our victories anyway we can.
Well chums, while I didn't get everything covered that I wanted to, I put a pretty decent dent in things. Honestly, if we don't cover snow days and Mardi Gras, I'm pretty sure no one will notice regardless. ;)