...when the snow comes to cover the ground.
Ok...we definitely don't have any snow yet, so white frosting will have to do instead. 'Tis the season for gingerbread house-making. As typical, we always do graham crackers instead of traditional gingerbread. Spencer claims it's because it's structurally more sound...I just claim it's because I'm lazy. This year we shook things up by throwing upside-down waffle cones into the mix as Christmas trees (thanks for getting married and having reception leftovers,
Kim
!). I was originally intending to
just
do the trees, but then I over-bought candy (what can I say? any excuse is a good excuse to buy sugar in my book) and Ezra was aghast at the thought of a house-less gingerbread decorating activity...so we busted out the grahams. Anyway, here's the proof: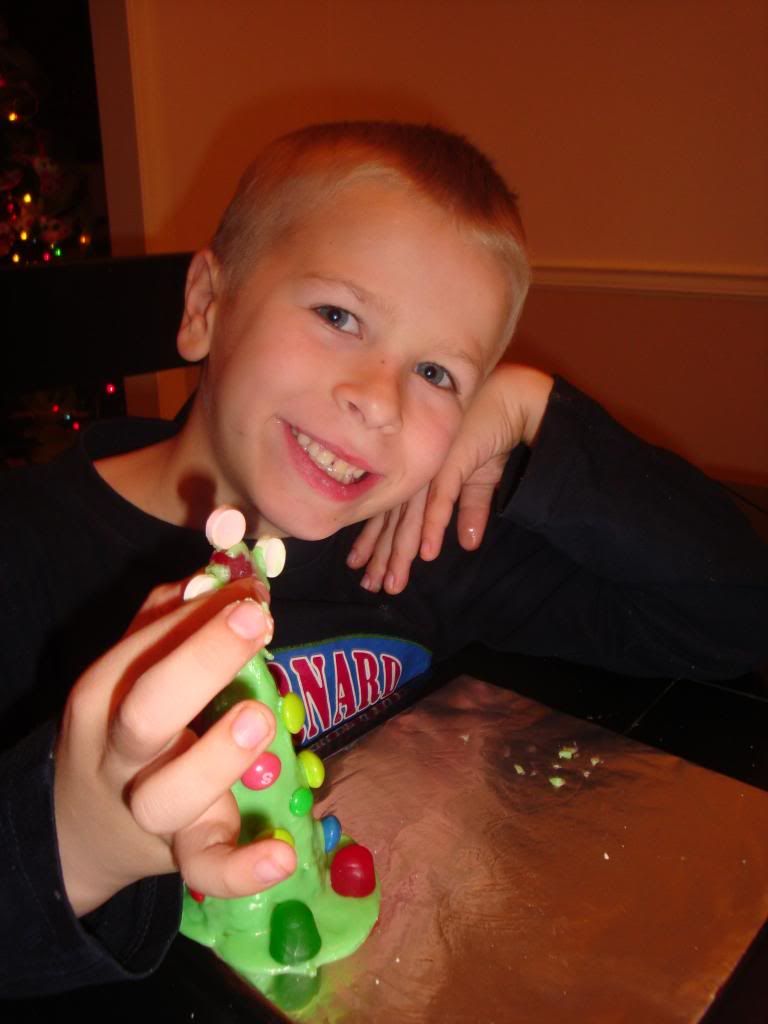 Ezra holding his fancy tree-topper in place. It was the only frivolity the boy allowed his decorating and it just wouldn't balance atop his tree. After about the 5th fall he finally gave up on it.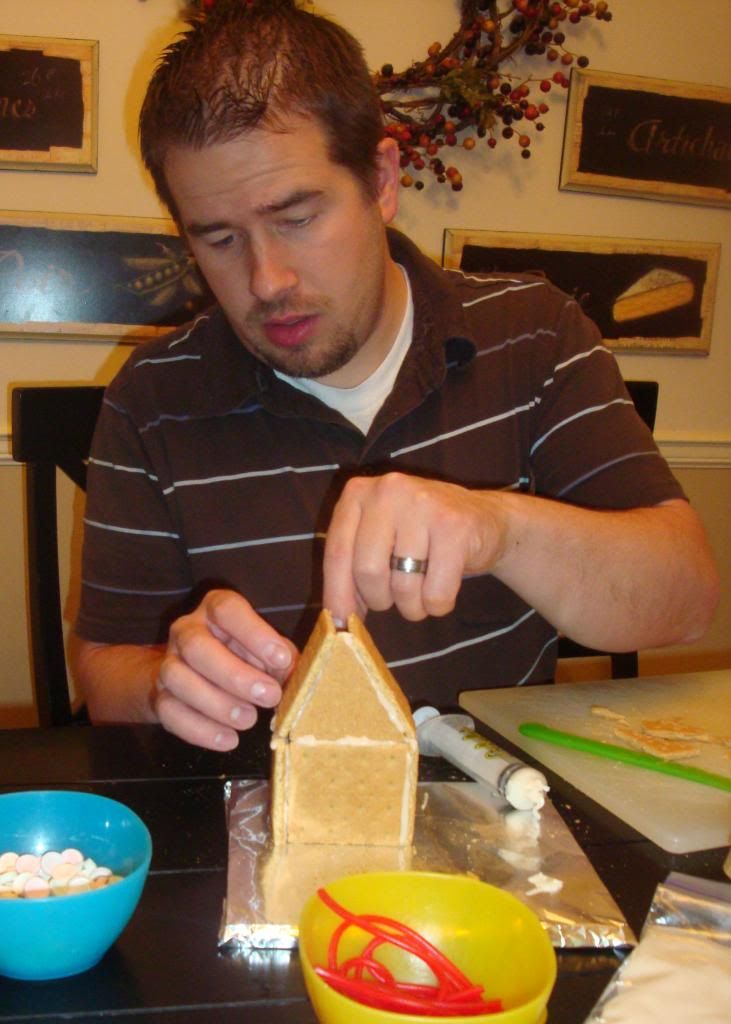 Spencer helping Scarlett get her house in order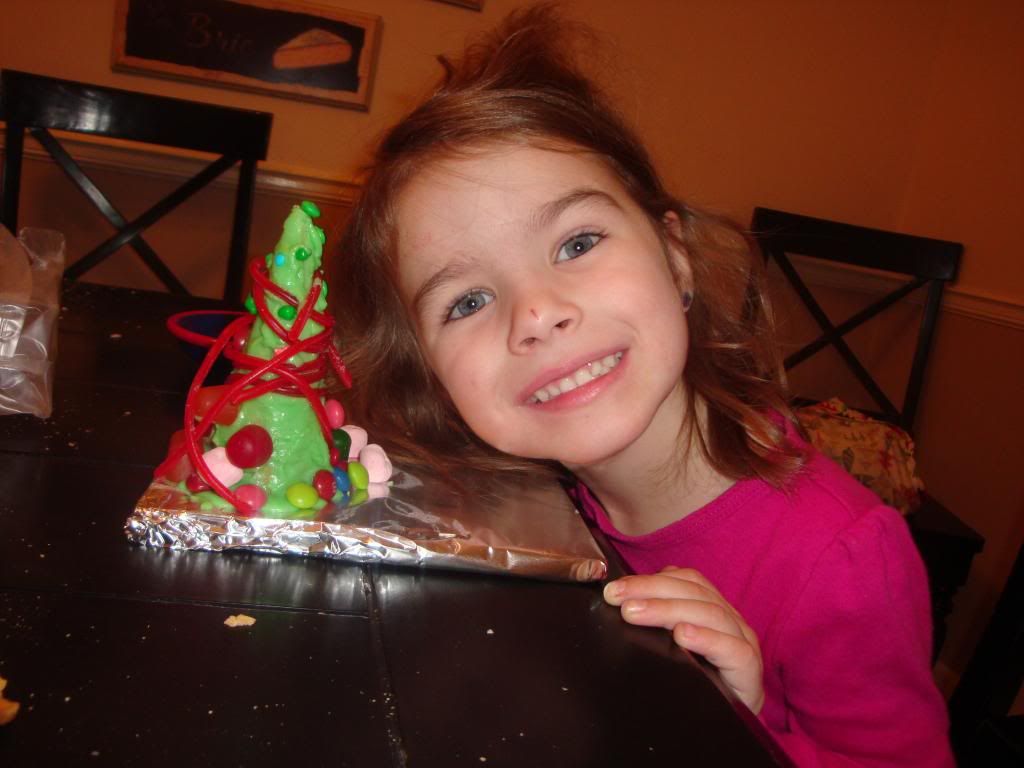 The ever-smiley (and bad-hair-bedecked) Miss Scarlett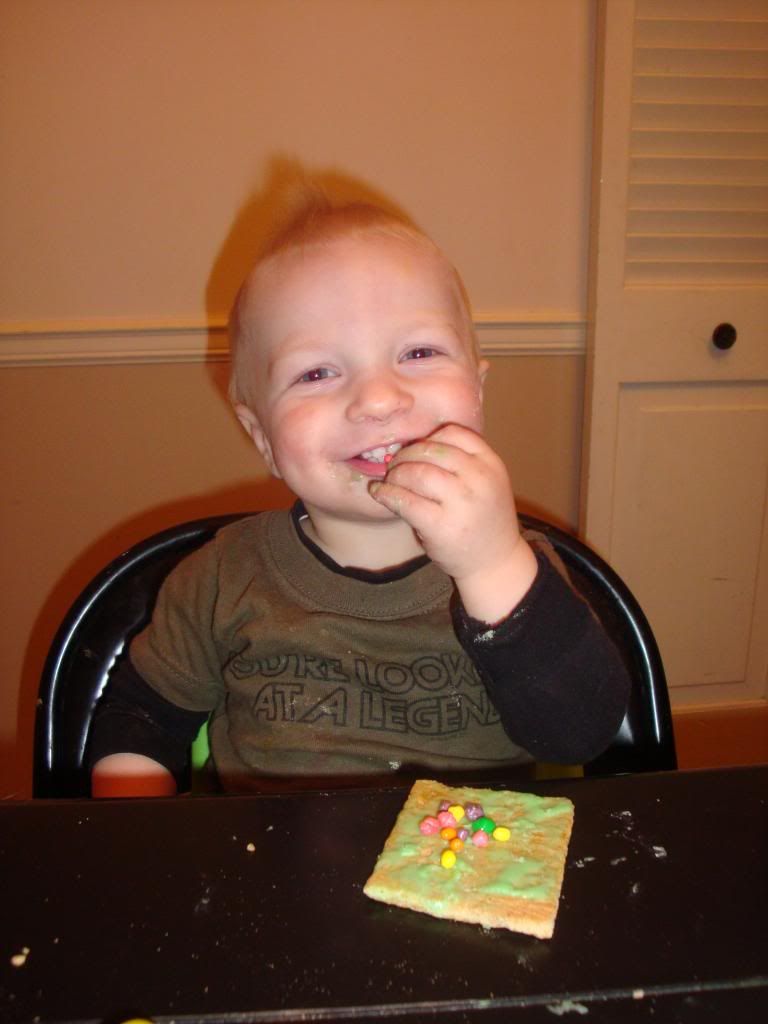 How Oak entertained himself.
He was like a little puppy dog that the kids occasionally threw treats in the general direction of.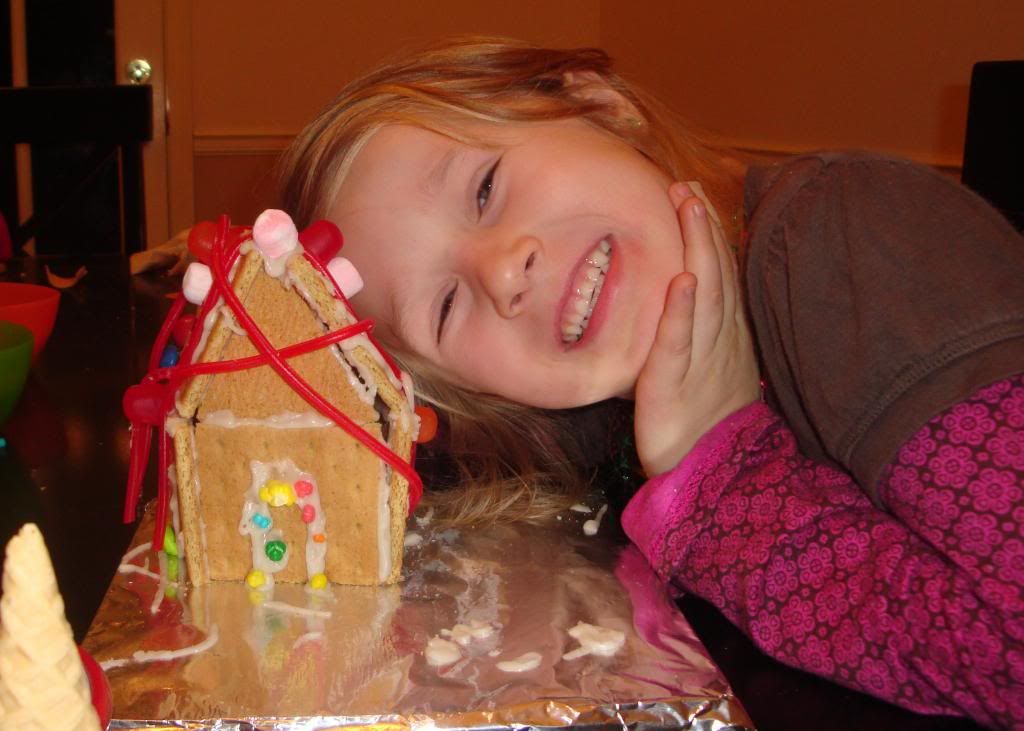 The oddly eternally-homeless-looking Miss Georgia
Poor, poor girl. Her house completely collapsed not once, but twice, and even then it was a little shaky. She was a trooper through it all. It's not been confirmed, but I have my suspicions it's because she kept pushing the candy onto the house so hard. Georgia's not exactly well-known for her light touch.
The finished products:
(I love how they fit all their personalities to a tee)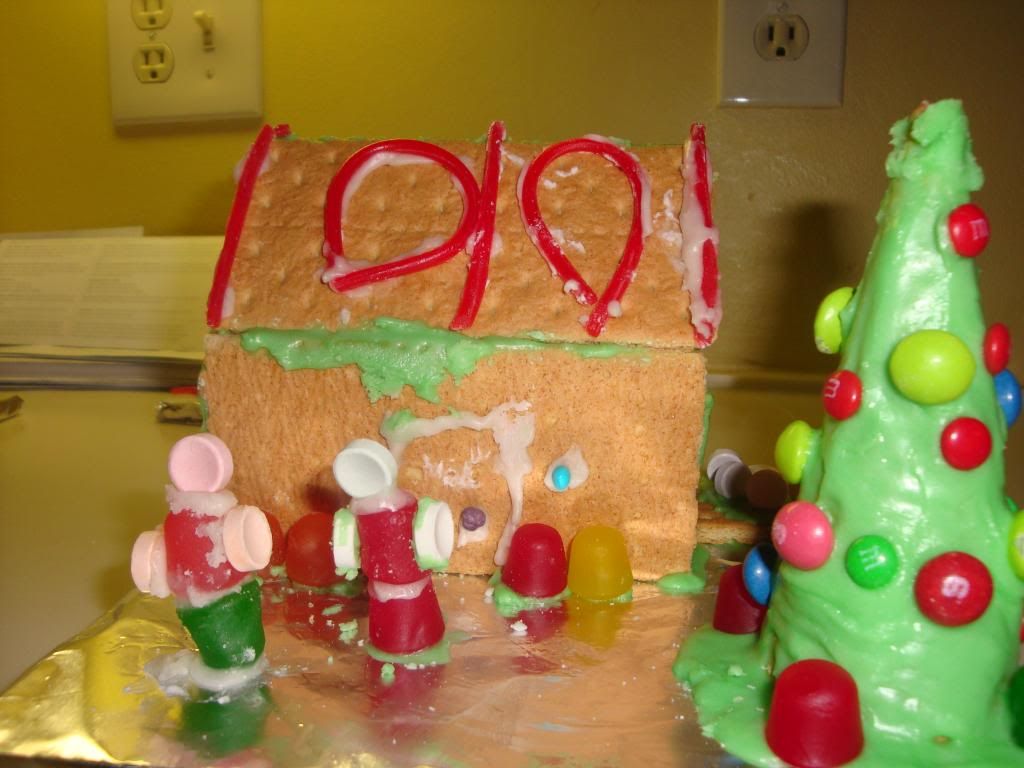 Mr. Ezra's austere, yet remarkably realistic house
Bless his heart, the boy couldn't add frippery if his life depended on it. Note that the sum total of his house decor includes: 4 shrubs, two roof windows, some lines on the roof to indicate shingles, a door knob, and a door bell (
"I have to put a doorbell on it, Mom. What would a house be without a doorbell!?")...after all, real houses aren't covered in skittles, now are they? Most of his time was spent on the people (red is girl, green is boy, I believe). He also made sure to include a well-thought-out smartie garden in the backyard.
Spencer's half-finished tee-pee circle
He had high hopes but the kids and their incessant pleading for help got in the way.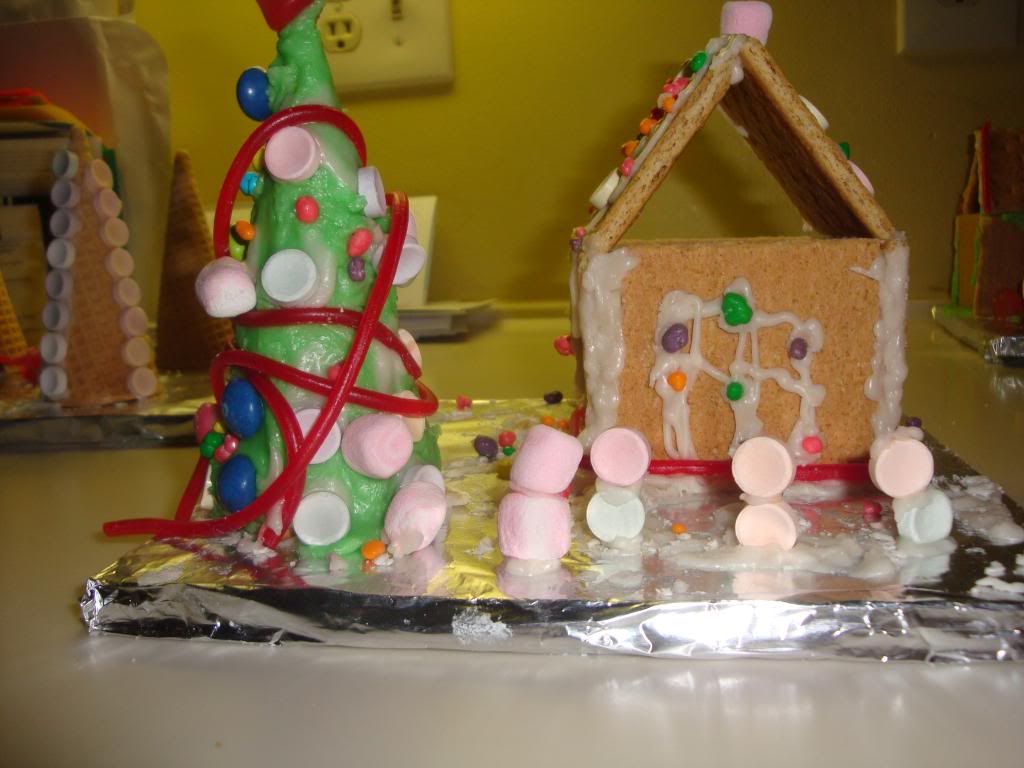 Miss Georgia's thrice-created home
We convinced her to leave the roof open as "skylights" to cut down on the weight of the roof and hopefully avoid further collapse. She lost a lot of the extra decor on the third-go-round of construction. That's ok, though, she focused her efforts on the tree, marshmallow snowman, and smartie people.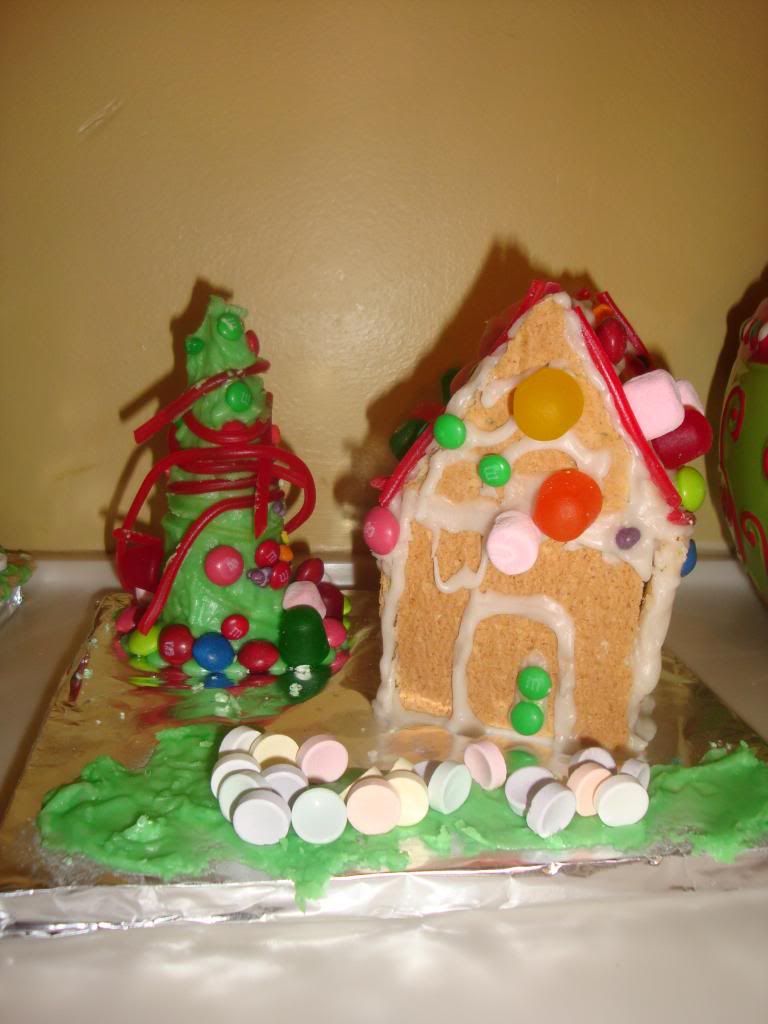 And finally, Miss Scarlett's house
Scarlett's house is just like her...full of lovely, yet occasionally overwhelming, frivolity and randomness.
This is the first year I've gotten basically all of my Christmas prep done early. I'm almost overwhelmed at the thought of all the Christmas festivities I have the opportunity to still do with the kids. We'll see which I run out of first: time or enthusiasm ;)