Here's some random musings to start your morning right (if a morning can be started after 10:00am, anyway ;).
I can't believe we're so darn close to Christmas! 8 days!!! eeeeeee! I feel like this has been the longest Christmas season ever due to that extra week between Thanksgiving and December. I'm so excited to finally be only a week away from Christmas eve. I feel like a little kid :)
So, our car is in the shop for a transmission fix. To most people, a car in the shop is inconvenient and obnoxiously expensive...to us it's like friggin' doomsday. As Spencer works on cars, we pretty much never take our car into the shop. I think maybe once (?) in our entire marraige, and that was when we had to replace our transmission for like $3000. ouch! Hopefully that's not the case this time around. I just don't think we'll keep the van if the transmission needs to be replaced again. I'm honestly not sure what we'll do.
As for exciting news from the Lifferth household...drumroll, please...
We tore down a wall!!!! We had a Ronald Reagan moment (
Mr. Gorbachev, tear down this wall!
) and down the wall came between our kitchen and dining room. Yep...like gone. The kids had an absolute blast doing it too. Even Oak got in the fun...with a hatchet...needless to say, Mom was not around while that particular moment was happening.
Anyway, now that the wall is down and the edges have been framed, the plan is to tear up the dining room carpet and put down hardwood to match the kitchen. Then we'll sand and refinish both the kitchen and dining room to a dark mahogany color (it's currently light oak (it takes all I have not to capitalize that word ;)). We're doing it now, despite it's inconvenience with the holiday goings-on because I'm planning on heading down to Oklahoma right after Christmas (we'll see what happens with the car situation). That way, Spencer can refinish and seal the floors while no one else is home.
Anyway, here's the proof!
Before #1 (dining room):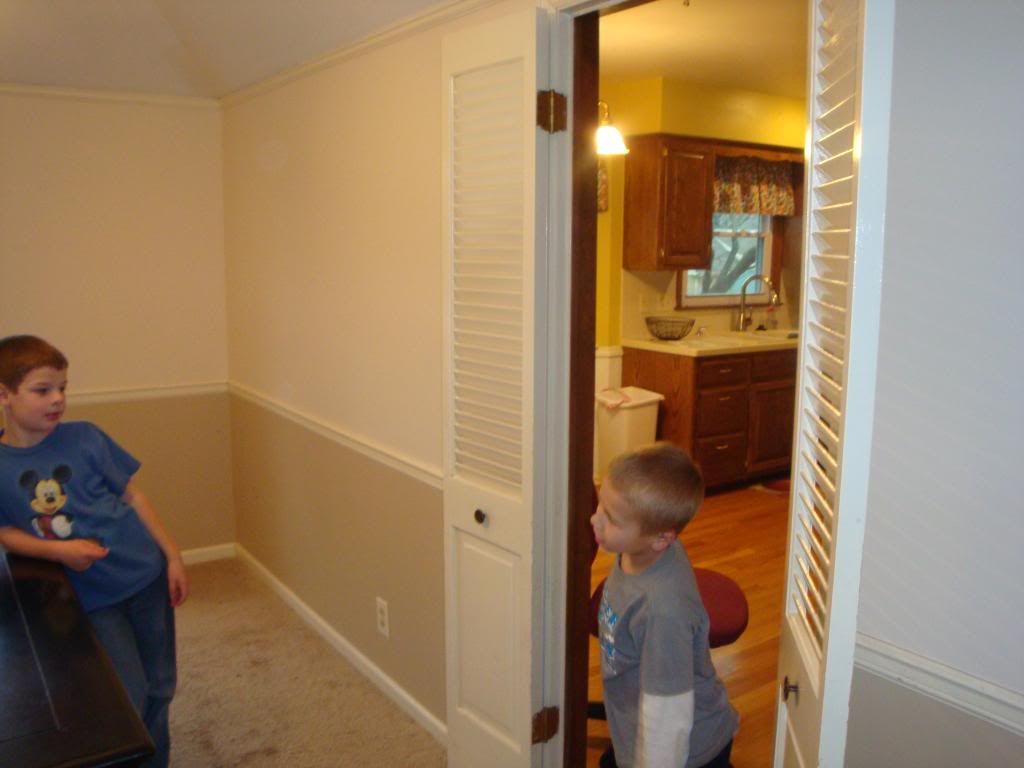 Before #2 (kitchen):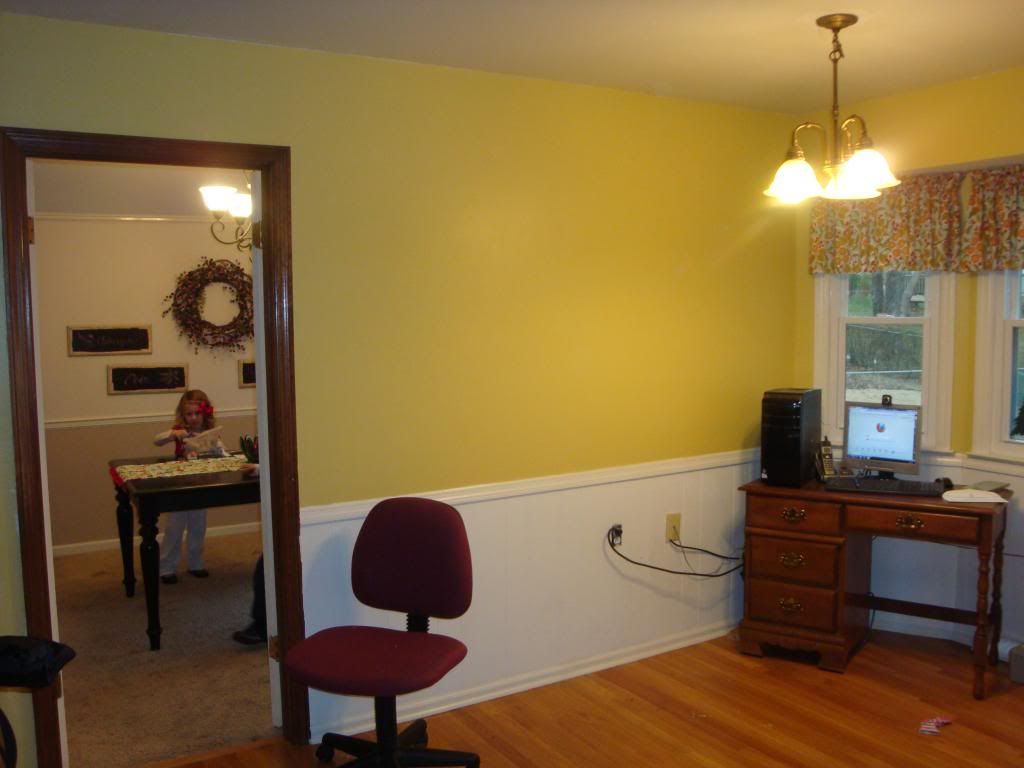 The demolition
(all those spots are dust in the air)
(in case any of you are wondering who the random blue-shirted boy is, that's Liam, one of Ezra's besties from up the road.)
We break through!
about half-way there (poor Spence, he did most of the work from here forward)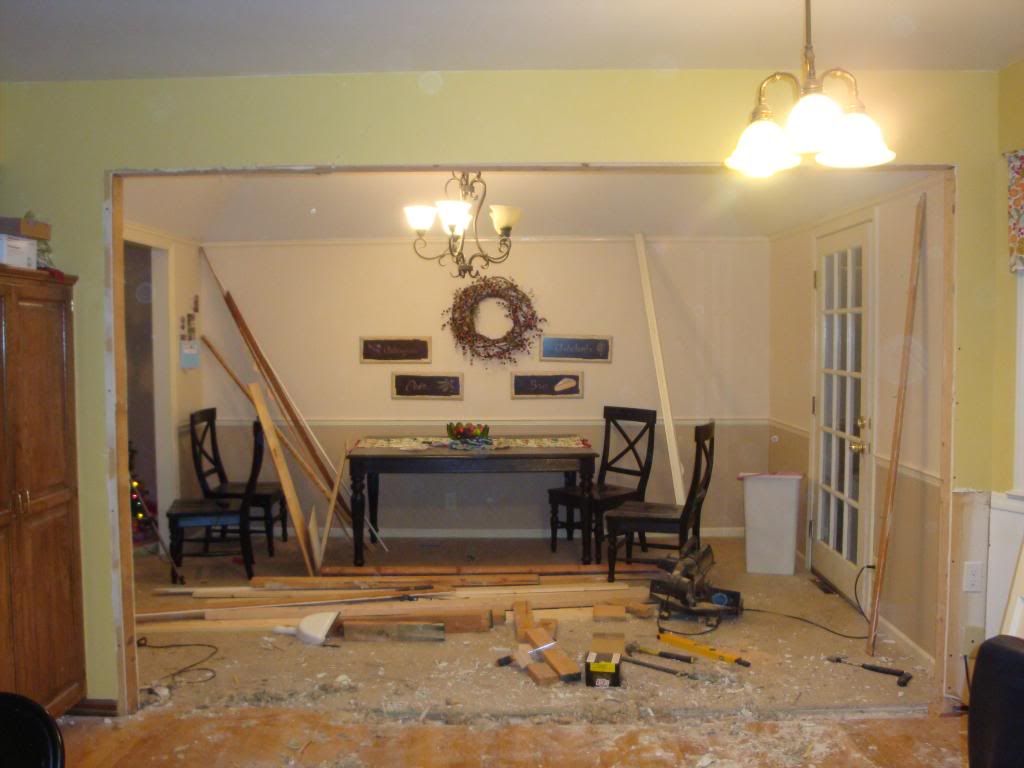 This was at about midnight or so on Saturday night.
What's left of the wall has been framed and we just has cleanup left before bed (which, let me tell you, is no small job!)
...aaaand this is where we're at right now.
Next up, the flooring!
Also, as inquiring minds have requested, this is our new table set, a craigslist find. We love it, but we'll probably re-sell the table after a bit as Spence has his heart set on building a table. It'll be long and rectangle and will fit the space better (this one is smaller and rectangle or big and square with the leaf in). The chairs are perfect and exactly what I had my heart set on, so we'll keep them for sure.
Well, that's it for today, folks! I have loads more things to post about, so there'll probably be more posts in the near future :)