...or so it feels like since we went to our 2nd wedding there this year, and the first of this summer.
Anyway, so much has happened since I last posted! We visited Spencer's family out in Utah and had a fun-filled time full of hikes, a wienie roast, catfish line fishing, tissue paper pom-pom making, one amazing trip to Tucanos, and (most importantly) Heather's wedding! Most unfortunately, my camera wasn't working (I really think it might have actually bit the dust this time around),
however
, most fortunately, my brother-in-law Eric took a bunch of pictures and then was doubly-awesome and sent me them all s so I could show them to you! yay! yay! for brother-in-laws who save the day! Without further ado...
Note: if these pictures seem a little Ezra-heavy, it's because that's who Eric spent most of this time with. They were pretty much inseparable and Ezra definitely worships the ground his Uncle Eric walks on. It's fun to see Eric bring out Ezra's more rough-and-tumble side and it was super-handy to have a built-in-monitor when Ezra insisted on exploring the wild off the beaten path while the rest of us stuck to the trail (which happened ridiculously often).
Spencer and Oak
Thank heavens Oak finally warmed up to his carrier this trip. Last summer he whimpered every time Spencer started climbing and bending, but this time he loved every minute of it.
If, for those of you who are familiar with the area, this shot looks a little backward to you, it's because Ezra was on the opposite side of the falls from which people typically visit. He took it upon himself to hike straight up the face of the falls (instead of the switch-backs leading up to it), and then explored the eastern side of things (maybe? I can never seem to remember my directions). Luckily Eric was, as always, willing to tag along and keep him out of harms way.
The two E.E. Lifferths
Oh, how I love these two crazy gents
After Bridal Veil, we hit up a local farm store to give the kids a chance to see the chicks, ducklings, and rabbits there.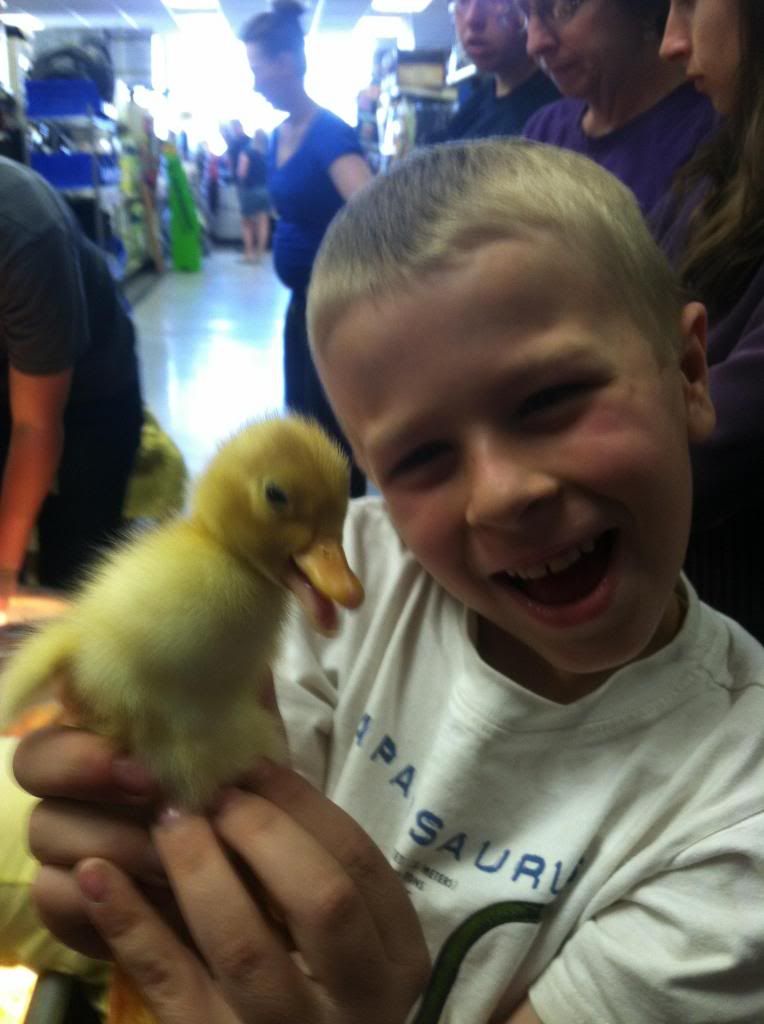 Which was just a preview for when we visited Leslie's FFA club's show animals the next day.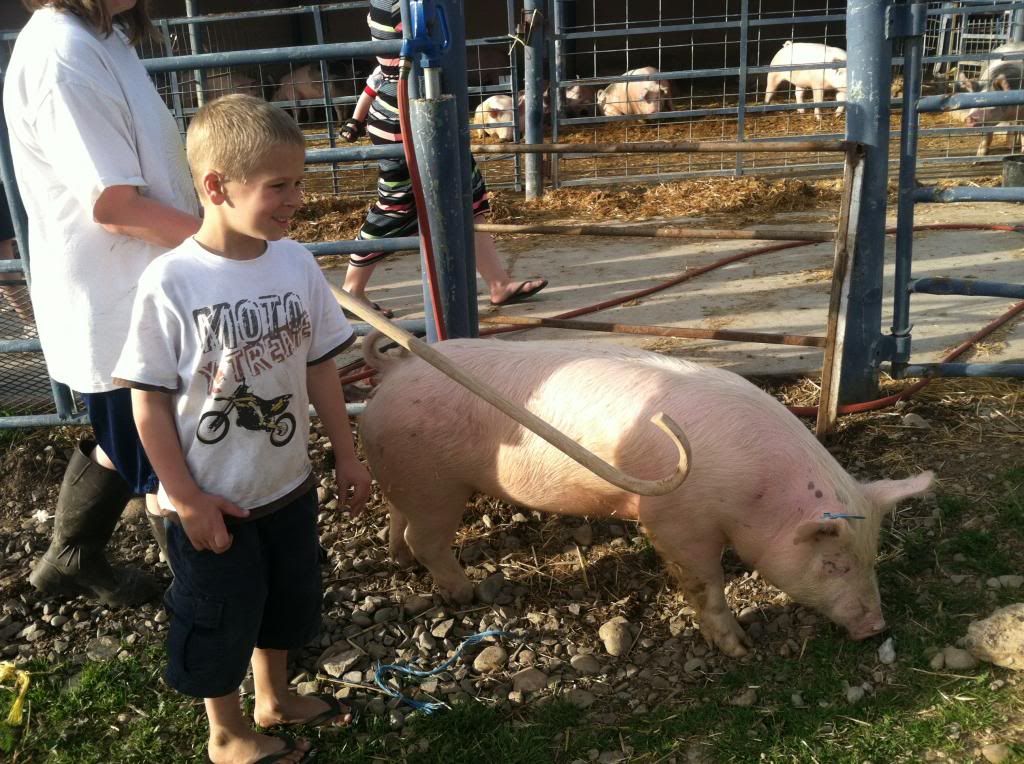 Aunt Leslie's pride and joy pig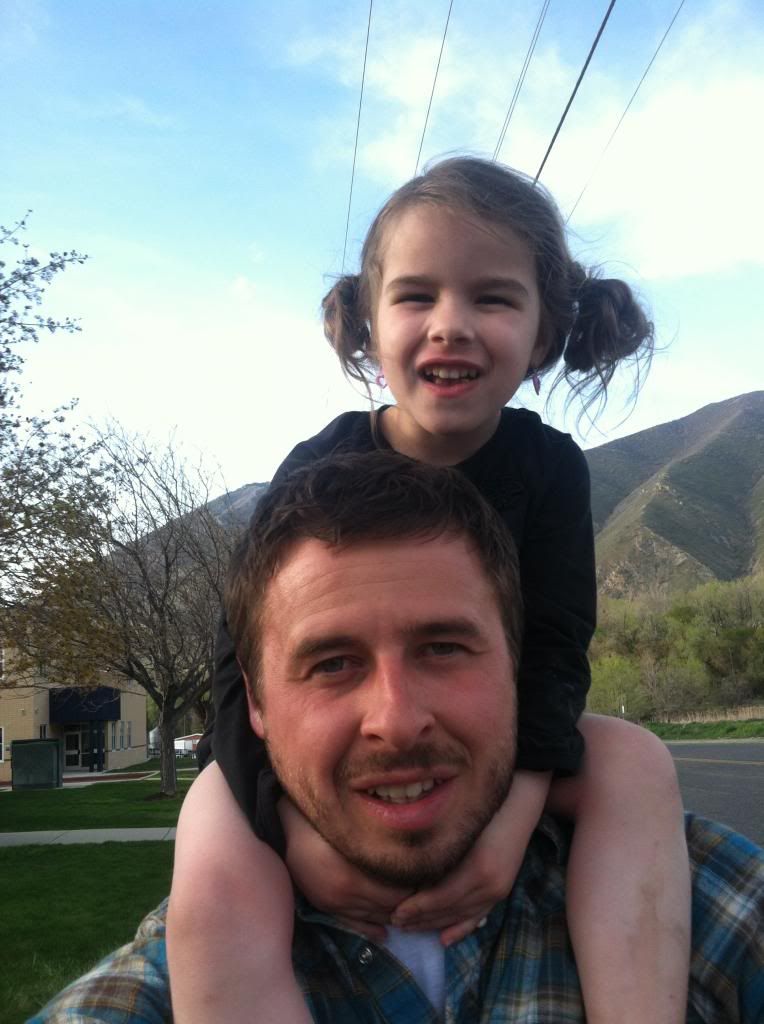 Eric in Scarlett's choke-hold on the walk there
These are officially from later that week when we visited Leslie at the animal show, but I'm grouping them here anyway. deal with it.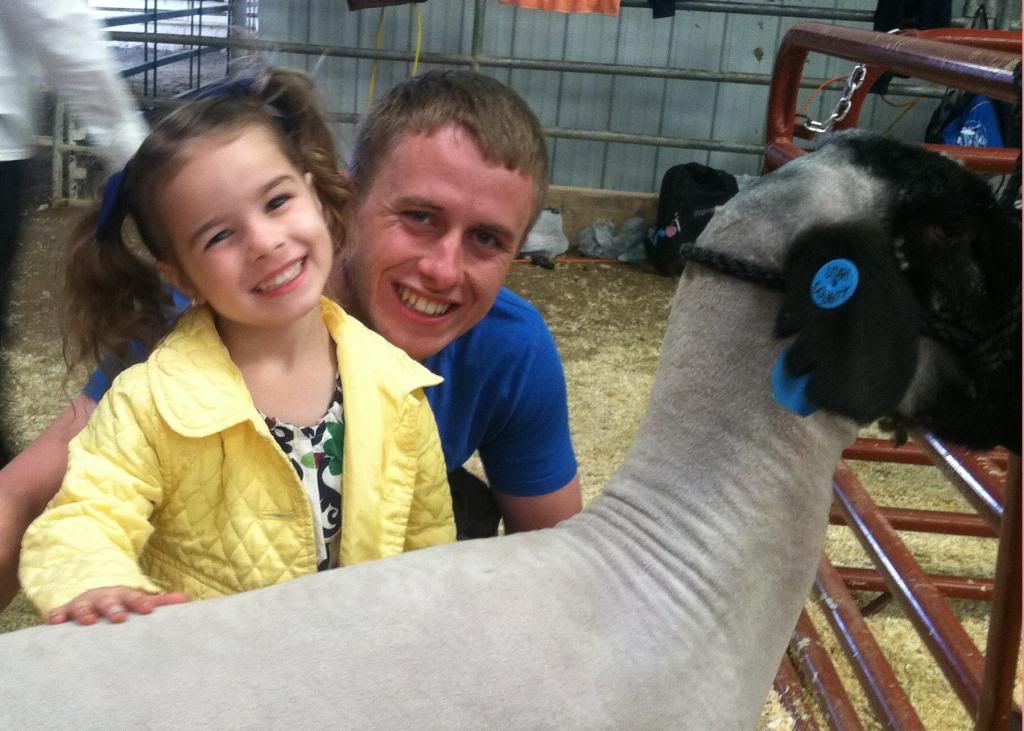 Uncle Kyle and Scarlett
aaaand this is how Georgia felt about the animals.
Poor girl's blessed with my overly-sensitive sense of smell.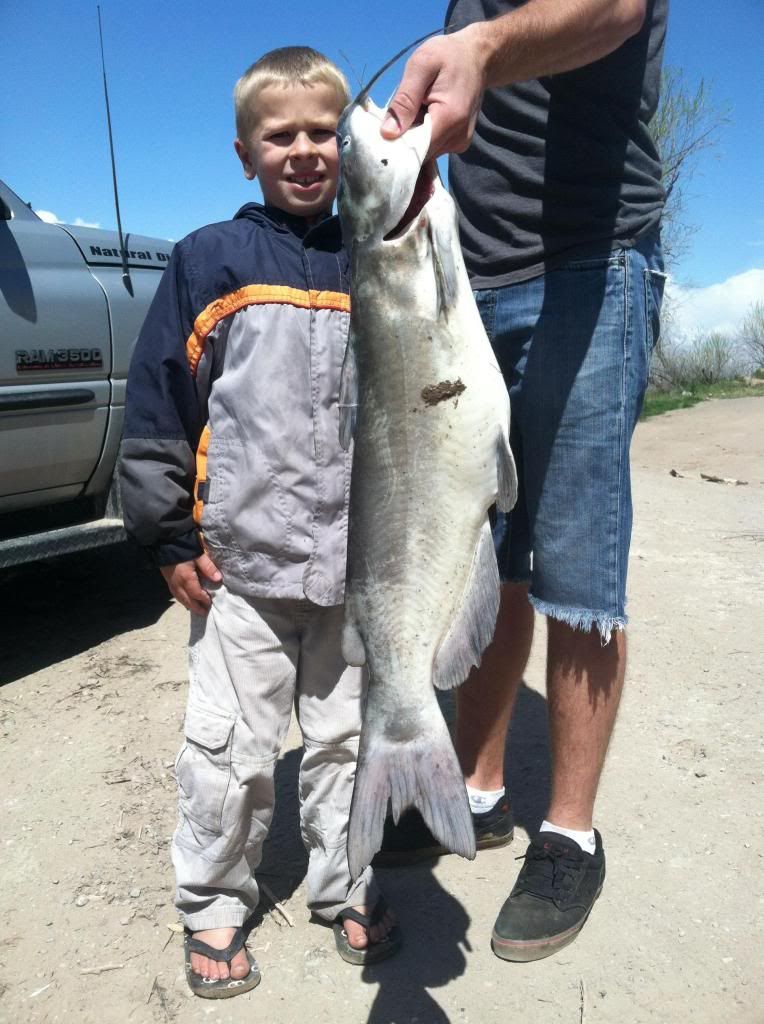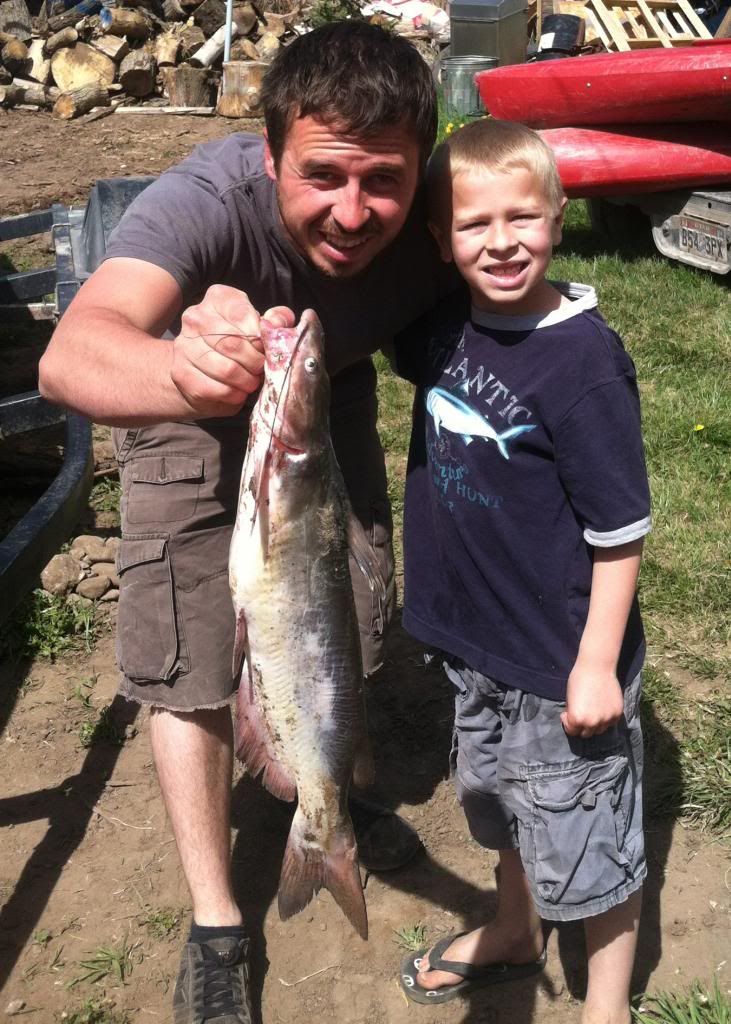 Ezra is so Lifferth-looking it kills me!
Poor Ezzie Boy was being so brave. The kid gets grossed out having to clear plates from the table...I can only imagine the personal agony he went through to hold the fish long enough to take a picture. Uncle Eric's power knows no limits.
Even with all the hiking, fishing, wedding festivities and preparations, we still managed to spend a day at the Church History Museum, taking a candy factory tour (at
Sweet Candy Company
-I
highly
recommend it!), and hitting up IKEA...or at least Kim and I did, while the boys and kiddos headed over to a outdoorsy store that I can't remember the name of. Here's a few pictures as proof:
The Church History Museum has the coolest interactive kids exhibit right now. A definite favorite was the latino dance area. They had two life-sized screens set up to teach the kids traditional moves. Georgie, in particular, couldn't be drug away with wild horses.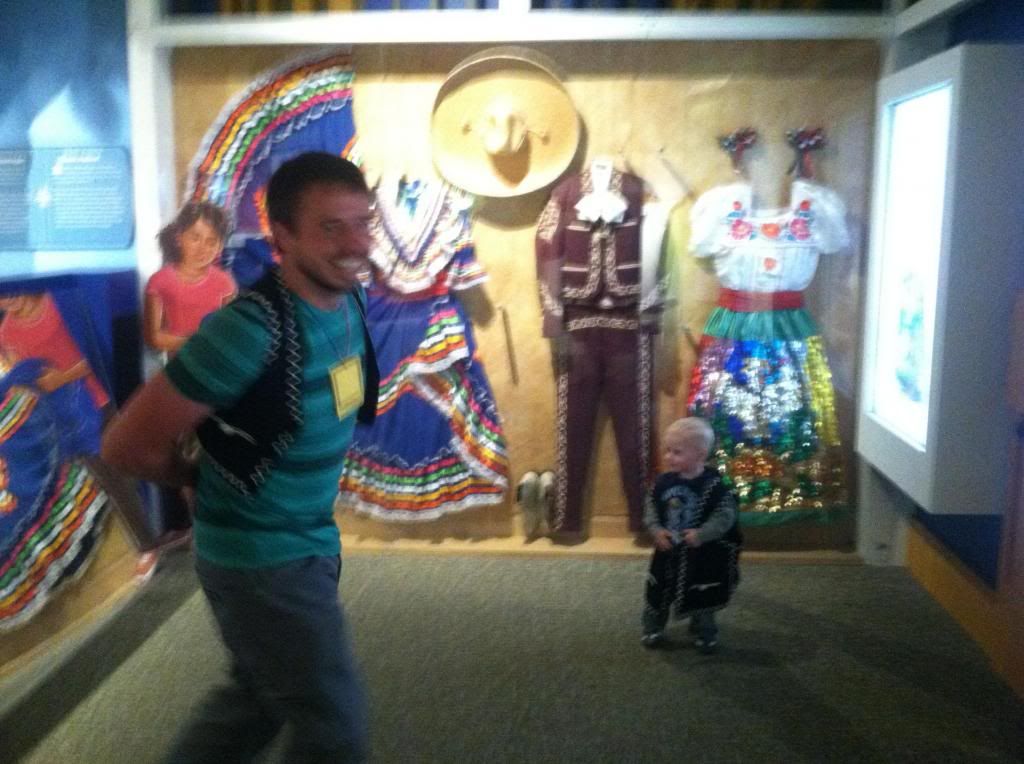 A super-blurry picture of Eric and Oak workin' the moves. I couldn't resist posting regardless.
The outdoors store that Eric and Spencer took the kids to had gobs of photo spots. They fully enjoyed them...until the kids started to fight over who got to hold a random piece of wood, reminded everyone in the store why birth control is a good thing, and started throwing around $250 golf clubs. At that point in time, the guys called it a day and picked Kim and me up from IKEA.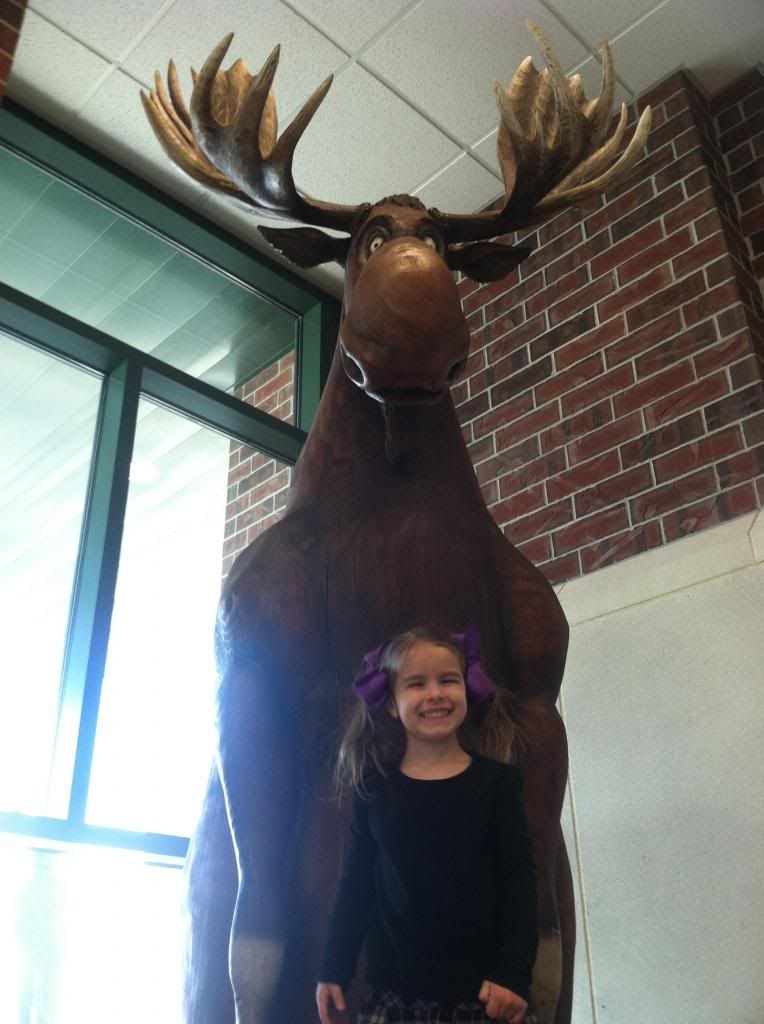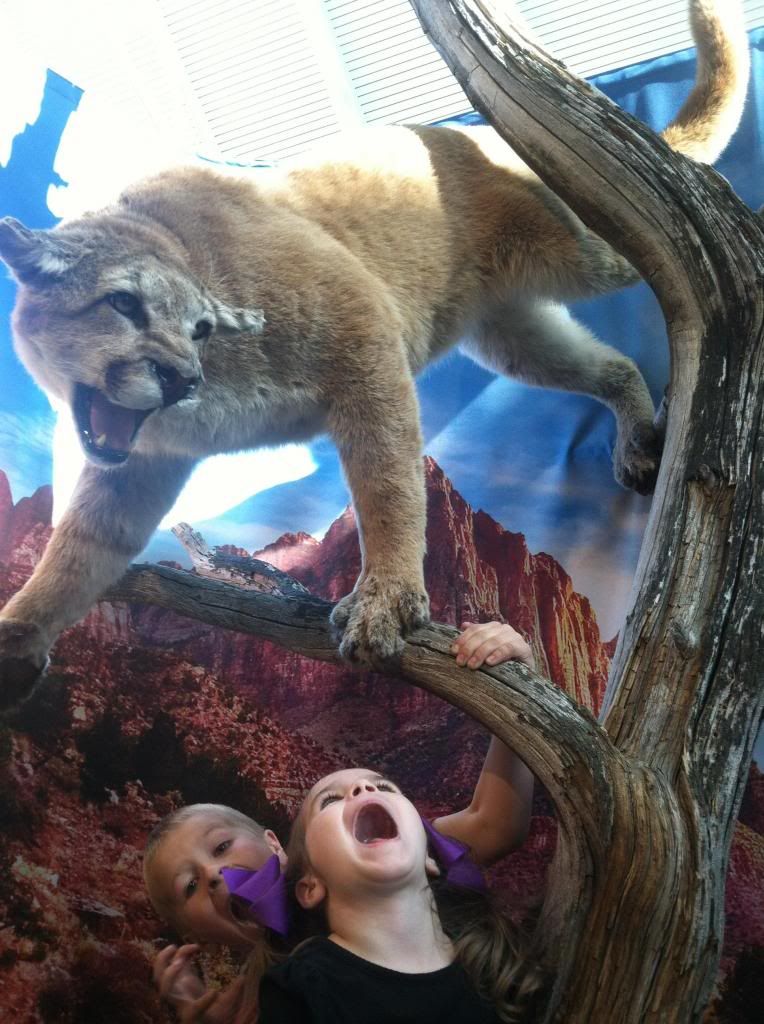 Oak is less-inspired by the mountain lion. Poor boy was exhausted by this point in the day.
Also uninspired by the bear. obviously.
Just about the only picture we have of Georgia. She was quite uncooperative to say the least. Also, if you're wondering what the blue bubble is on her head, we all had hair covers for the candy tour and she insisted on wearing hers for the rest of the day.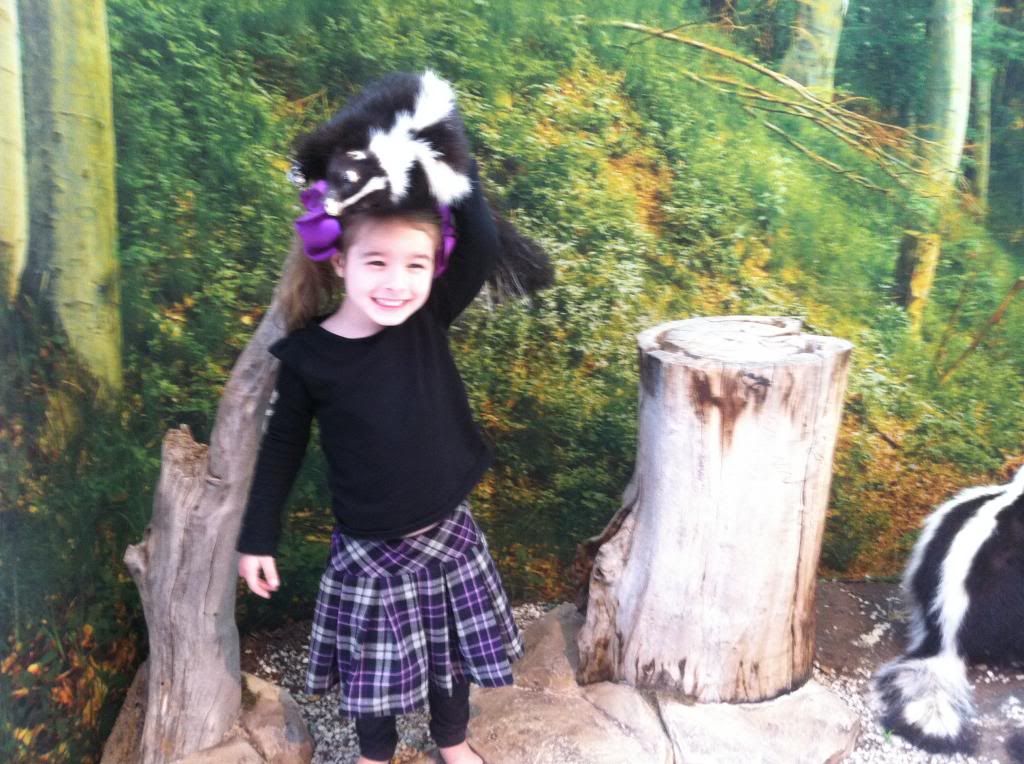 Scarlett was oddly fond of the taxidermied skunks.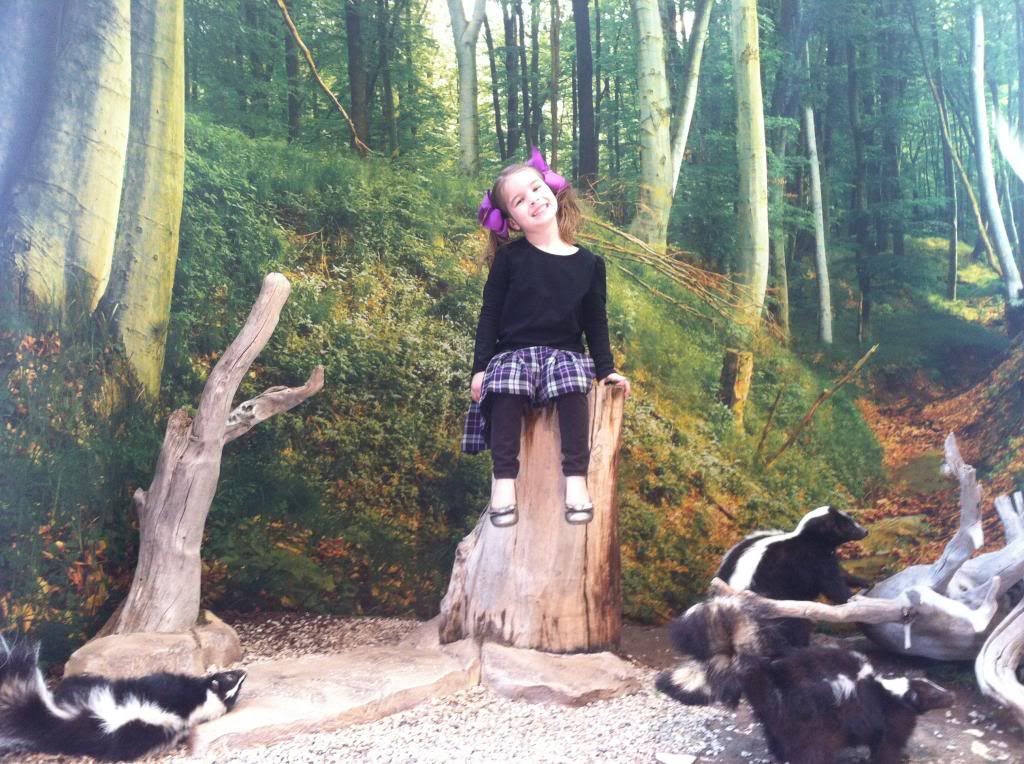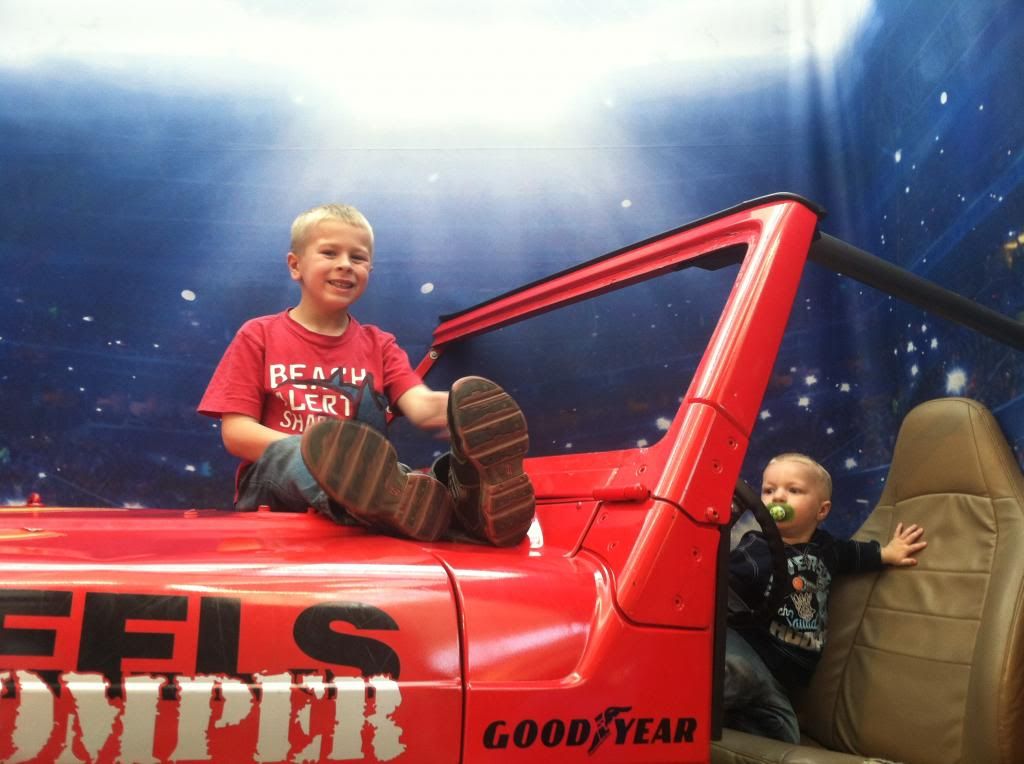 To say that the Rehearsal Dinner at Tucanos was a highlight of the trip is the understatement of the century. We had been looking forward to it for.ev.er. Spencer even contemplated starving himself for days in advance so as to better be able to enjoy it's Brazilian, meat-heavy fare.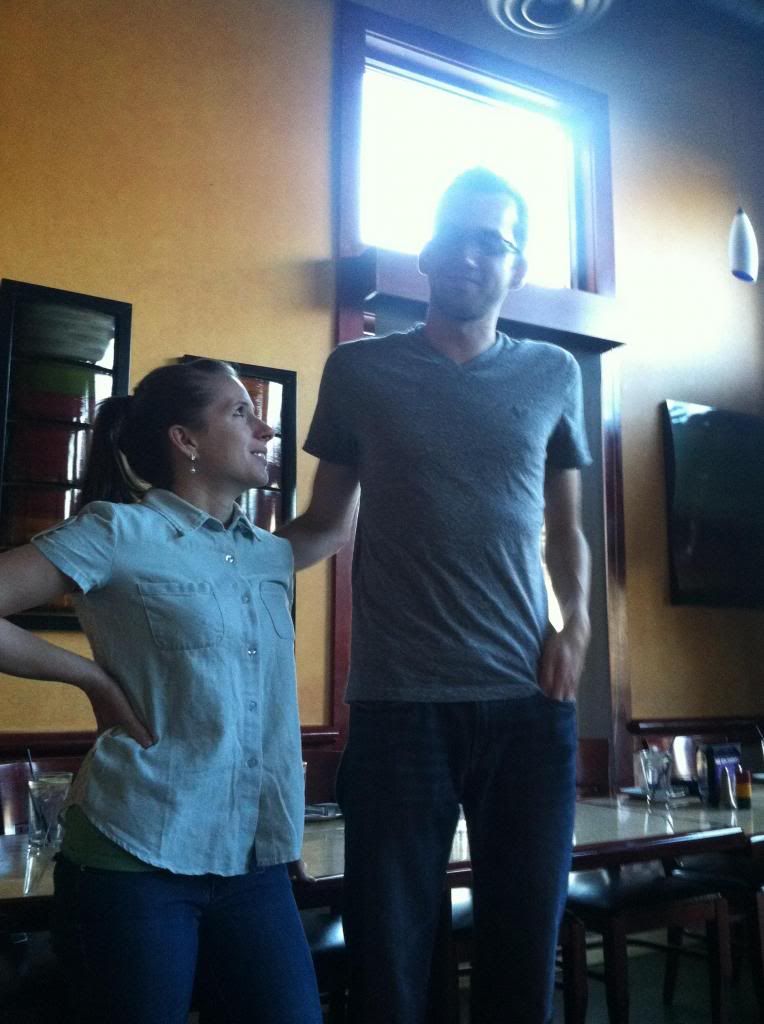 The cute soon-to-be wed couple, Heather and Matt
Scarlett and Eric ready for their protein feast
...or at least Eric was. Scarlett just likes posing for photo ops
Georgia did her Lifferth-genes proud and fully gorged herself. That girl loooooves her meat.
All the kids were particularly fond of the little tongs you use when getting the meat off the serving platters.
Kim and Georgie
If it looks like Georgia's mouth is full of food here...it's because it is.
I was going to post the wedding pictures here, but since this post is already GINORMOUS, I think I'll take a rain check and make up a separate post in a couple of days.
Anyway, thanks for sticking it out. Hope your head didn't explode from the picture overload. As a surprise bonus for those that made it to the end, here are two youtube videos that Eric made up for the kids (the man takes his GoPro everywhere with him). Ezra's, in particular, makes me smile. He really does know no limits when it comes to the great outdoors. As a random onlooker said to me while he scaled a shale-covered mountainside in bare feet...the boy has balls.
Enjoy!