Oakie, my Oakie...how I love you so! I can't even believe you're 2 years old already! At the same time, it's seems like you've been part of our family forever. Everyday, I am grateful you were sent to our family. Everyday, I am grateful you will be part of our family forever. I simply can't imagine Us without You in it.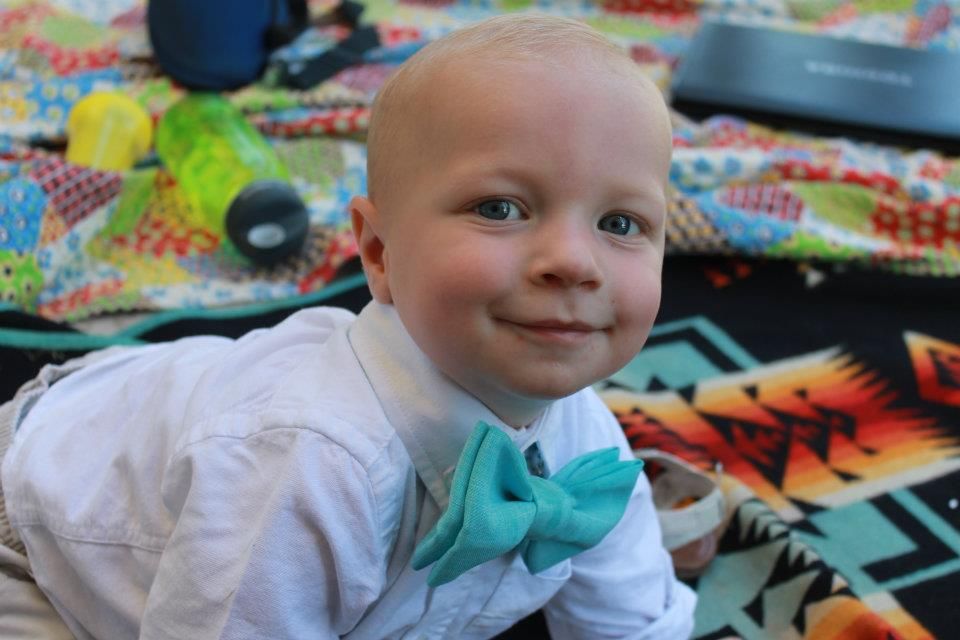 Love those baby blues!
Oh, Oak, you bring such joy and brightness and spunk to our family. What would we do without your spark and energy? You're like a little lightning bolt that crackles around our living room, jumping off of furniture, tackling your siblings, and chucking toys against the wall. You're such an intense little personality. You're so happy so much of the time, really, a truly joyful little soul, but then, just as quickly you're writhing on the floor in a full-out tantrum or smacking anyone who stands too close. After the storm passes, however, you go right back to being your crazy, enthusiastic, grab-life-by-the-horns typical personality. You just love life so darn much. Even in your happiness and excitement you're intense, Little Man. I guess you can just join the club with your other intense-personalitied siblings, right? Your middle name is Gideon, a biblical and
Book of Mormon
warrior. I love how it fits you so well. Combined with Oak, it's the perfect name for a mighty warrior, which you are. You are my little warrior, through and through.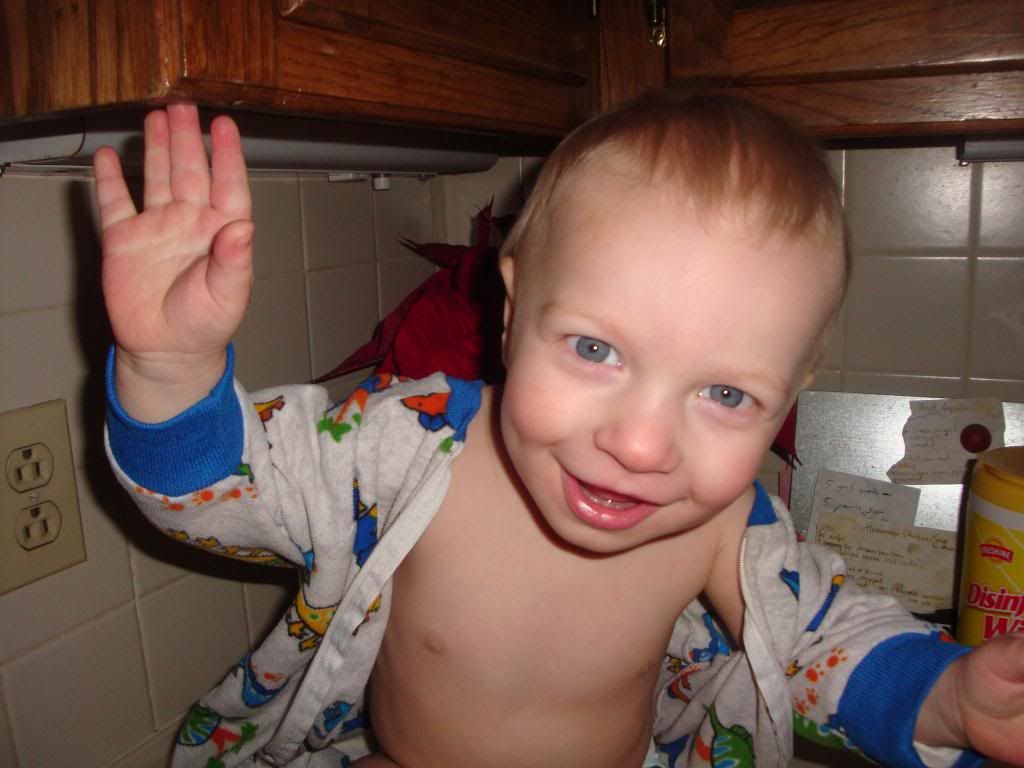 Our first attempt at Time Out
It was obviously enthusiastically received
Oh, my dear Oak Gideon, you are ALL BOY. I used to be a little skeptical of gender roles when I just had my first two kids. Ezra did like a lot of boy-typical things, but he wasn't what anyone would call rough 'n' tumble. Georgia was much more like that, instead. Again, she loved sparkles and pink, but she was the tougher and more energetic of the two kids. Then...I had Scarlett. Scarlett, from the moment her personality first shined through, was a little girl. From the top of her curly brown head to her painted toenails, she is a girl through and through. And then, Little Friend, I had you. You are the boyest boy I know. All your favorite toys are boy toys. You are insanely physically active. You put Georgia to shame with your rough 'n' tumble-ness and Scarlett to shame with your eternal energy. You literally and figuratively love to run circles around the rest of us. You have a naughty mischievous streak a mile wide. You really do fit all the boyish cliches and, honestly, I can't help but love you all the more for it.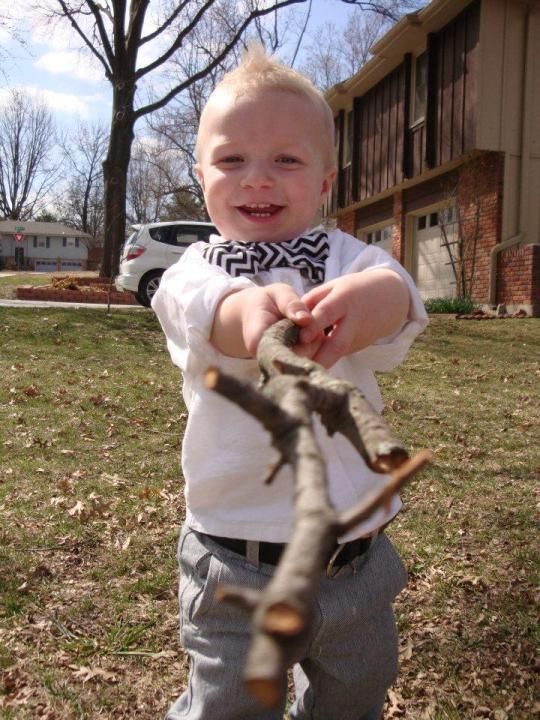 You do have a softer side, however, which I fully relish. You'll often climb into our bed to cuddle the wee morning hours away. You love books and movies and will insist on sitting on my lap or under my arm while we enjoy them together (which is also about the only time you slow down). That's why I call you Little Friend, a nickname that is unique only to you. You really are my little buddy, following me around like a puppy dog, climbing on my back when I'm sitting down, wanting to just hang out all the time. While it's hard to find a moment alone, it's nice to have a child that so fully basks in my attention and enjoys my company. It's just nice to be the favorite, for a first :)
Mama's Boy
You also love all things vehicle and animal-related, Oakie Boy. Toys, movies, books, stuffed animals, clothing, etc. If it has anything at all do do with one of those two categories, you're all over it. Speaking of clothing, your other great love is shoes. You'll consent to getting your diaper and clothes changed, just so you can finally get those shoes on your feet and there they'll stay all. day. long. I find this particularly amusing considering the other kids and I are definitely bare-feet type of people. Who knows, maybe you get it from your dad? Regardless, I find it to be one of your most endearing quirks (especially considering my own great love of fabulous footwear). You also love, love, love your siblings and follow them into all sorts of adventures. It's fair to say that sometimes they drive you insane (I can't say I blame you, they do maul you to death regularly), but you adore them all for the most part. Scarlett, in particular, is your best little frienemy. You fight and play and fight and play and eventually tackle her all day long (you're smaller than her by about 7-8 pounds, but what you lack in size you make up for in pure willpower). You recently graduated up to a Big Boy Bed at your insistence (you literally just started insisting on sleeping in a bed instead of the crib one night a few weeks ago and have never looked back) in the room you share with Ezra. Ezzie waited a long time for a little brother and is absolutely thrilled to have someone take the bottom bunk to his top. I know you'll be a great big brother to the soon-to-arrive little man too. You've made a wonderful addition to our little brood, Oakie Boy, and we're all so glad to have you.
The Boys in Easter finery
Oh, Little Man, people love you. You have an absolutely infectious personality and make friends wherever we go, whether it be the grocery store, park, or the library (you're a particular favorite of Angel, one of the children's section librarians). There's a primary song,
"Give," Said the Little Stream
, that reminds me of you and Scarlett whenever I hear it.
"Give," said the little stream,
"Give, oh! give, give, oh! give."
"Give," said the little stream,
As it hurried down the hill;
"I'm small, I know, but wherever I go
The fields grow greener still."
Singing, singing all the day,
"Give away, oh! give away."
Singing, singing all the day,
"Give, oh! give away."
Despite your small stature, you have a giant personality and such a happy little spirit and you really do make the fields grow greener still* just by being you. Oakie, you make life a better, happier, greener place just by being in it. You smile and the world smiles right back at ya. I can't say I blame them. Being around you makes me happier too, every. single. day.
I love you, Oak Gideon. I love you with all of my might, mind, and soul. You have a special niche in this mama heart of mine which is all your very own, Baby Boy. I can't wait to see you grow up into the amazing man I know you will become. On the other hand, I'm so very glad you're still my little man for a little while longer. I love you!
Happy, Happy Birthday Mr. Oak!
*Am I the only one who always sings that line "the grass grows greener still"? anyone? anyone? (to this day, I can't say those words without thinking of Ferris Bueller's Day Off)