Back to school. Back to school, to prove to Dad that I'm not a fool. I got my lunch packed up, my boots tied tight, I hope I don't get in a fight. Ohhhh, back to school.
there's pretty much never a time that an Adam Sandler quote doesn't fit the bill.
Today is the first day of school for my oldest two. Georgia's in first grade and Ezra's in second. You know what that means? They'll be gone ALL DAY LONG. Praises be, glory hallelujah! I'm sure there's a time I'll miss having all the small savages underfoot at home, but that time is not today. To top it off, Scarlett will start her 3-days a week, half-day Pre-K on the 28th, which we're both looking forward to. yay! yay!
Miss Georgia in her hand-picked sparkly unicorn shirt and hot pink pettiskirt all ready for 1st grade! She's super-excited to have gotten Mrs. Callahan, who was Ezra's teacher from last year, and have her bestie Baleigh in her class again. She's a little nervous about starting up school again, but glitter and ruffles always seem to help the medicine go down.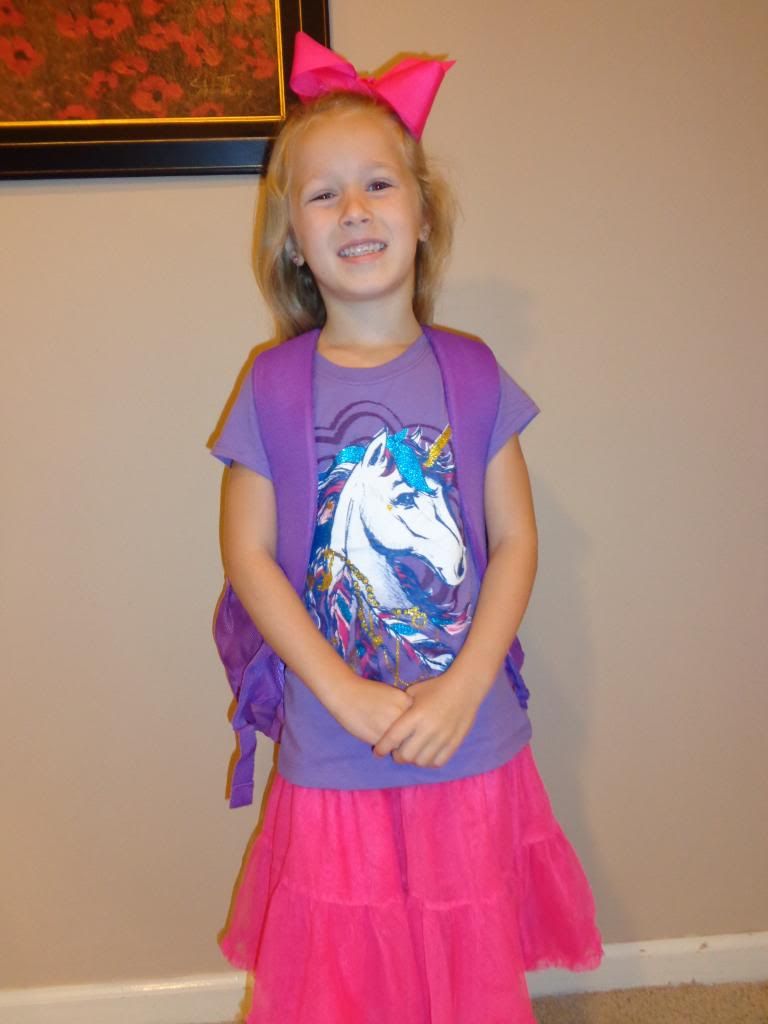 Ezra Emil in his "smart shirt" (aka: any polo shirt) which he refuses to wear for any day except the very first day of school. In case you're wondering, he insisted on buttoning up all the buttons since it's "the only way I can make it look nice." Ooooh, heavens, that kid is such a natural nerd! Don't ask me why his eyes are closed. He insisted he was "smiling normal!" when I complained about it. Oh my heavens, how I love that quirky kid.
Here's a few more shots from picking up the kids after school. Our friend, Jenny, (Liam's mama) is a super-star of a picture taker and is always willing to take a few extra since I always seem to be lacking my camera.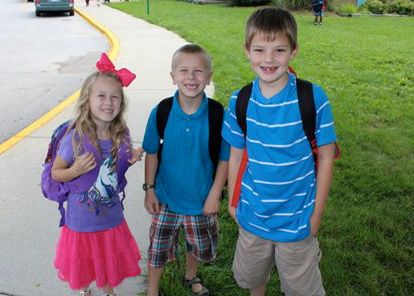 Georgia, Ezra, and Liam (Ezra's bestie)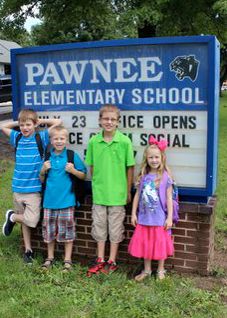 Liam, Ezra, Nathan (Liam's older brother), and Georgie in front of the sign out front of the school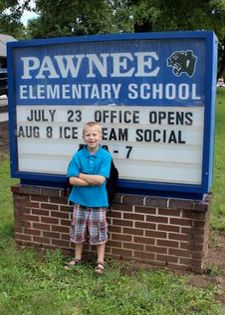 Mr. Ez
Miss G
That's all folks! I'll have to put up Scarlett's first day pictures at the end of the month. eeee! I can't believe she's so old! I can't really believe any of them are so old!